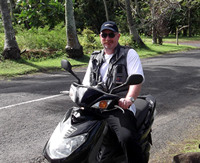 Richard Moore is an Australian journalist with 40 years' experience in the profession, mainly on daily broadsheet newspapers and the internet.
He has worked in the Cook Islands, Australia, New Zealand and England on news organisations such as The Melbourne Age, the BBC World Service, the Daily Telegraph (London), the New Zealand Herald, Radio Australia and various British regional papers.
In 1987 Richard Moore spent a month in Belfast shooting a photo essay on The Troubles, getting a little too close to a hand-grenade attack for his liking, and in 1989 covered the fall of the Berlin Wall.
His first foray into web development was a computer game site called Gameblitz, he then built the Web Wombat search portal and was editor of it for five years.
Web Wombat now gets more than 800,000 visitors a month.
At the same time Richard Moore created The Napoleonic Guide - a 4000-page reference website on the Napoleonic Era. Built for teachers, students and history buffs The Napoleonic Guide gets more than 180,000 visitors a month.
In 2004, Richard Moore built TikiTouring.co.nz and it is now a major tourism website for people travelling to - or around - New Zealand. It also covers Cook Islands, Victoria (Australia) and the Solomon Islands. TikiTouring is looking to expand into London, Paris and Los Angeles.
Richard Moore has jkiust ended a contract working as a writer, editor, photographer in the Cook Islands.
He is a mad keen Geelong Football Club supporter and is in heaven with our most recent three Australian Football League premiership flags!!!!!!!!!!
In 2008 he almost ended up in heaven through a rather inconvenient heart attack, during which he drove himself to hospital for treatment.
To contact editor Richard Moore just click on this link.