Adrenalin Rush
Book the Auckland Harbour Bridge Bungy Jump
Check out pictures of bungy jumpers
Watching bungy jumpers
Where to stay in Auckland
Things to do in Auckland
Climb the Auckland Harbour Bridge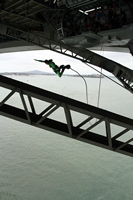 AUCKLAND
Thrillseekers are always after something different and now there is a world first bungy jump on offer in Auckland.
Those who love to get the adrenalin going by throwing themselves off perfectly safe platforms can now do so from the Auckland Harbour Bridge.
The bungy jump comes to you via AJ Hackett Bungy, which is the mob that's been organising bungy activities since they were invented, and they have totalled more than one million bungy jumps.
The jumps go daily, except on Christmas Day (December 25), and are open to anyone 10 years and over.
If you want to check out where you'll be making your death-defying leap from have a look at the bridge over Pier 2.
AJ Hackett Bungy uses state-of-the-art safety equipment for its jumps and that includes a purpose-built jump pod and retrieval system. They say it's comfortable too!
You can organise with the operators to buy photographs or videos of your death-defying jump.
Bungy jumps may be cancelled due to high winds.
Departure Point
Jumping parties leave from the Auckland Harbour Bridge Adventure Centre, Westhaven Reserve, at the bottom of Curran St, Herne Bay.
Times
Bungy jumpers can pretty much pick their own departure times between 8.30am and 7pm, in summer, while winter jumps are between 9am and 5pm (Winter). Please specify a preferred jump time at time of booking.
Weight and Weight Restrictions
35kilos to 155kilos
Minimum 1.20 metres
Clothing
Bungy jumpers must wear flat, closed footwear and are not allowed to take items such as mobile phones or cameras on their fast-dropping journey.
Prices and Book the Bungy Jump
Picture courtesy of AJ Hackett Bungy NZ