Queenscliff


By Richard Moore
Photos of Queenscliff

Accommodation:
Geelong
Ocean Grove
Point Lonsdale
Queenscliff
Anglesea
Apollo Bay
Cape Otway
Lorne
Torquay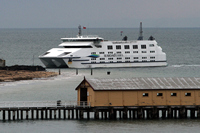 About 20 minutes outside Victoria's second city of Geelong is the very pretty town of Queenscliff.
Queencliff overlooks the southern section of Port Philip Bay and has been a town attracting visitors for more than 100 years.
While reasonably isolated from bigger population centres Queenscliff links the eastern side of the bay with a ferry service that can transport both passengers and vehicles to Sorrento.
It is a town studded with heritage buildings including a pretty imposing brick-walled fort that was operating as an Australian army base until recent times.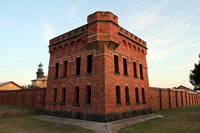 Queenscliff has been the subject of many artists and there is an arts trail you can follow while in the town.
The series of information boards highlights celebrated artists and photographers who have used their skills to immortalise the essence of Queenscliff and the surrounding area.
There is also a heritage walk around the town to take in its historic buildings. The guided tour takes about 75 minutes and starts at 2pm on a Saturday.
If an organised trip is not your thing then do a self-guided stroll around the town. You can buy a booklet from the local visitor centre and complete the tour in about 45 minutes.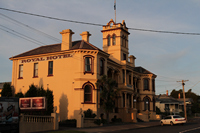 You can end your journey with afternoon at one of the heritage buildings in the town. If you are thinking of a place to stay in the area you can do well at the pretty Queenscliff Tourist Park.
The park is right on the water and provides campsites, powered and not, as well as cabins. The thing I loved about it - apart from it being very clean and tidy - was the fact that in the middle of it was a football and cricket oval.
The Australian Defence Force's Fort Queenscliff is an interesting site - brick walls and metal firing holes - and nearby you can get some good views down over the Queenscliff Pier and its ferry terminal.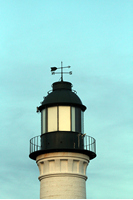 Now Queenscliff is not just good looks, the town is historically important to Victoria as in the early days it was there ships had to stop to get customs clearance and be checked for any nasty disease outbreaks.
The Queenscliffe Maritime Museum protects the town's sea heritage with four galleries of themed displays.
It was created to preserve and display the town's last lifeboat - the Queenscliffe - which served the community for 50 until it was brought ashore in 1976. The Queenscliffe is the star attraction - surrounded by interesting items that cover the 160-year history of the lifeboat service.
Queenscliff is a beaut little town to visit and belies its size with plenty to see and do.