Shrine of Remembrance
Melbourne
By Richard Moore
Pictures of The Shrine of Remembrance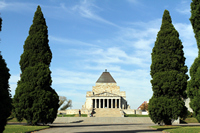 The Shrine of Remembrance is a stunning building completed in 1934 to mark those Australians who died during World War I.
Today is for all Australian soldiers, sailors and arimen who died in all of the country's conflicts.
The Shrine is one of the biggest war memorials in Australia and is able to be seen from many aspects of the city.
Designed by WWI veterans Phillip Hudson and James Wardrop the Shrine was meant to hark back to the glories and fighting spirit of ancient Greece.
The Parthenon in Athens inspired the entrance porticos which, on the north and south sides, are identical.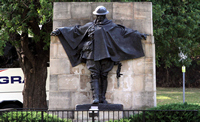 Hudson used a technique perfected by the ancient Greeks to correct optical distortions of the large Doric columns.
The main entrance to the Shrine is via the northern steps. To your right is the Eternal Flame and a monument to Australia's sailors.
The stairs leading to the Shrine is lined by balustrades on which are stones carved with the nation's battle honours. The stones are on all approaches and feature the WWI battles of: The Anzac landings, Sari-Bair, Rumani, Gaza-Beersheba, North Sea, Cocos Island, Megiddo, Damascus, Villers Bretonneux, Amiens, Mont St Quentin, Hindenberg Line, Ypres, Messines, Pozieres and Bullecourt.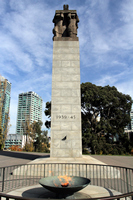 Going inside the Shrine is a moving experience, particularly when The Last Post is played. The main interior is known as the sanctuary and contains the marble stone of remembrance on which the phrase "Greater love hath no man." The roof of the Shrine is designed so that at 11am on the 11th of November every year (Remembrance Day) sunlight will illumnate the word Love.
Around the sanctuary is an ambulatory with books of remembrance of those who fell.
Beneath the sanctuary is the the crypt, which contains a bronze statue of a soldier father and son.
On the same floor is the Shrine's visitor centre, which was finished in 2003. The centre contains a Gallery of Medals, a shop and educational facilities. From there you can go outside into the entry courtyard and Remembrance Garden - a zig-zag walled enclosure with poppies and Lest We Forget written on the wall.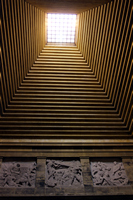 Visitors to the Shrine can also go upstairs from the sanctuary and walk around the top of the building, which gives some lovely views of the city.
There are also some very nice bronze statues of military figures close by the Shrine as you head towards the nearby parklands.
If you are in Melbourne on Anzac Day, April 25, then there will be major commemorations with the Dawn Parade and then the later, larger, Anzac Day parade with the old Diggers marching to the Shrine.
It is a fabulous and moving day.