Where to go from Christchurch
The latest Sightseeing, Tours, Attractions & Events in Christchurch
Hotels and Accommodation in Christchurch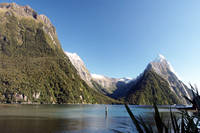 Five Day Great Southern Circle Tour
Spend five days indulging in the fantastic South Island of New Zealand through Mount Cook National Park, Queenstown, Milford Sound and the rugged West Coast.
Indulge your taste buds at four of North Canterbury's boutique vineyards. Sample classic New Zealand red and white wines.
This is a trip of stark contrasts between the Canterbury Plains and the peak of New Zealand's highest spot Mount Cook. Stopover at Lake Tekapo.
Four Day Southern Discovery Tour
This is something to be savoured. Have a scenic flight to the Alps, land on a glacier and then take a boat on one of the world's great fiords. Add to that three nights in Queenstown's alpine splendour and you have an unforgettable holiday.
Three Day Great Southern Circle Tour
A three-day tour packed with sights and wonders. Journey over the Canterbury Plains, visit the Mount Cook National Park, stay overnight in Queenstown on the shores of Lake Wakatipu and then on to the wild West Coast and its famous glaciers, before crossing the Southern Alps and back to Christchurch.
Three Day Southern Discovery Tour
Included in this package is a visit to the Mount Cook National Park, two nights in stunning Queenstown, a trip to the spectacular Milford Sound where you can take a boat cruise in one of nature's truly remarkable landscapes.
Six Day Southern Heritage Tour
If you have a bit more time to spend in the South island try this six-day heritage tour. View the alpine wonders of Mount Cook - think about taking a ski plane and land on a glacier - go to Queenstown, Milford Sound and visit historic Dunedin, described as the 'Edinburgh of the South'.
Seven Day Coastal Splendour Tour
Visit historic Dunedin and its heritage buildings. Take in Queenstown and its beautiful lake. Experience the rugged West Coast and view the mighty Franz Josef Glacier. Cruise Milford Sound and see the towering Mitre Peak.
Picture courtesy of Tranzalpine Train