Cathedral Cove
Secluded Haven on the Coromandel Peninsula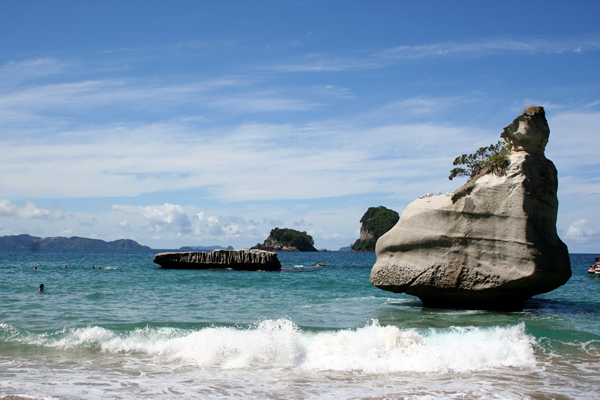 Coromandel Peninsula
Pictures of Cathedral Cove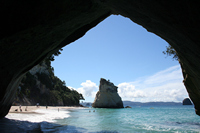 Whitianga is an excellent base for exploring the Coromandel Peninsula and several must-see spots are within easy drive.
The first has to be Cathedral Cove, which can be compared with Port Campbell's Arch along Victoria's Great Ocean Road in Australia.
It is a half-hour hike to a sandy cove where you can swim to a pancake-like rock shelf about 100 metres off shore or walk through an arched cave through to a second beach that has its own tall sandstone island.
The walk down to Cathedral Cove is not easy for the unfit - there are steep parts - but pack a picnic and sit back and relax once you get there as it is glorious.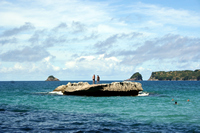 On the way a five-minute detour will also take you to Stingray Bay where the light green transparent waters allow you to watch rays swimming. Be a bit careful on windy days, however, as I almost got creamed by a native tree branch deciding to drop down nearby.
Rocks down the far end of the beach are also prone to detaching themselves from the cliff face so keep close to the water.
You can also see Gemstone Bay - where you can snorkel - but the beach is exceptionally rocky and no good for sunbathing.
A 5-minute drive from the carpark at Cathedral Cove is the popular beachside village of Hahei. Very crowded in summer Hahei does offer tourists one of the most expensive shops I've ever seen in my life.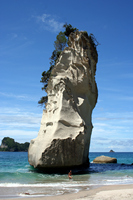 At the general store you could buy a house with what you pay for fresh fruit so - take your own food to the area.
Not far away from Hahei is Hot Water Beach.