Where to Stay in Nelson
Pictures of Nelson

Book for the Interislander Ferries
Where to Stay in Picton
What's on in Picton
By Richard Moore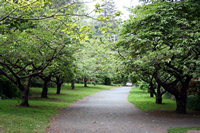 If you are heading to Nelson then your choices are a main highway or a windy 35km journey down the Queen Charlotte Drive.
Even with two kids in the car that had to be the way to go as people had recommended it and so off we went.
It isn't a hard drive - although it isn't fast - but the benefits are getting some terrific water views. The end of the drive is a town called Havelock, which is built on the junction of the Kaiuma and Pelorus rivers. It is renowned as the capital of green-shelled mussels - a delicious New Zealand seafood that you must try.
Nelson is a lovely city in one of the most sunny climates in New Zealand. Relaxed but charming it offers beaches, good restaurants and some lovely gardens to wander through.
The Queens Gardens, which are located in the centre of Nelson, have historic and rare trees, large ponds and an atmosphere of serenity.
And Isel Park, which has a historic stone house as its centrepiece, is a six-hectare woodland garden with several trees that are the largest of their kind in New Zealand. Some date back to the very early days of European settlement in New Zealand.
Spring is the best time to visit Isel Park as mass plantings of bulbs and perennials are at their best then.
Oh and an eating tip - try the Hot Rock gourmet pizza and pasta bar in Tahuananui Drive in Nelson. The pizzas are glorious and the atmosphere excellent.