Mount Maunganui Hot Pools
By Richard Moore
Bay of Plenty Suggestions
Hotels in Mount Maunganui
Hotels in Tauranga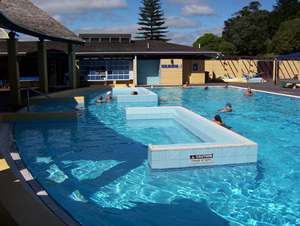 For a really relaxing place to loll about in it is hard to go past the Mount Maunganui Hot Pools.
Located just under Mauao in downtown Mount Maunganui, the baths are rare hot salt water pools that offer various temperatures to suit your needs.
They are very popular all year around with several outdoors pools for kids and adults.
If you want to get rid of some aches and pains then take a session under the high-pressure sprays as you sit in the waters.
They are particularly enticing if you have just walked the Mauao basetrack - a must-do if you are in town - and afterwards grab a coffee, or lunch in one of the many nearby cafes.
And you must try an ice-cream from Copenhagen Cones which is just across the road from the hot pools!
Mount Maunganui Hot Pools are at 9 Adams Ave.
Telephone: 07 575 0868.
Opening Hours: Monday - Saturday 6am to 10pm, Sunday and Public Holidays 8am to 10pm.