Cafe Versailles
107 Grey St
Tauranga
Ph: 571 1480
By Richard Moore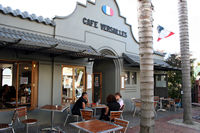 Legendary French leader Napoleon Bonaparte once said that an army marches on its stomach and if his Grande Armee in 1812 had had Maurice Mourali on its invasion of Russia things may have gone a lot better for him.
For Maurice is a consummate chef with a passion for food and his customers. His enthusiasm and gastronomic abilities - he is a two-star Michelin chef - make an evening out at Cafe Versailles an experience that is hard to forget.
From the moment you enter Cafe Versailles you can sense something special and if it isn't the French style and ambience, or the delightful aromas eminating from the kitchen, then it is the owner himself who throws himself at you wanting to know your life story within one breath.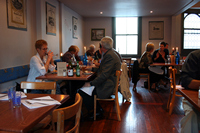 Everyone who joins Maurice for dinner will feel special and once you start sampling his astounding dishes you will quickly realise that this restaurant sits on a level of its own.
There is a mouth-watering selection of appetisers and entrees that include French cheeses, garlic escargots, flambeed scallops, salmon-stuffed john dory and duck galantine filled with pistachios and a black-truffle puree.
The mains include a classic coq-au-vin, entrecote of beef, seared lamb cutlets and a Marseilles bouillabaisse with three different fish fillets and king prawns.
We began with a duck terrine created cuisson sous vide - a new vacuum steaming concept in French cuisine that makes a very big difference to taste and flavour - and it is one of the most exciting creations to hit this palate in a while.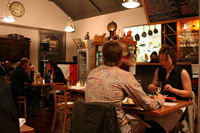 It contains duck, pistachios, sultanas, truffles, mushrooms and spinach surrounding succulent chicken breast.
The amazing thing is that you can taste each and every ingredient. This is no mash of items but a carefully prepared melange of delicate flavours.
"It is amuse-bouche ... treating the mouth," Maurice says.
And the rest of the plate does so with garlic cloves in armagnac, home-made bread and smoked olives.
Steak tartar is a favourite of this fellow and when in a French restaurant a discreet inquiry is always made "do you?"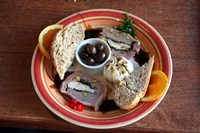 Although not on the menu, Maurice somehow found out and went to some lengths at short notice to present the dish. The raw prime beef was handsliced at the table into a melt-in-your-mouth texture. It is mixed with table-top-made mayonnaise, capers and mixed with raw egg.
Steak tartar is divine but is not yet on the menu as both Maurice and his wife Maurine, who sliced to perfection for five minutes, are not sure of how it will go on the Kiwi palate. It was sensational.
Cafe Versailles's wine cellar hosts some excellent drops of French wine and to go with our lamb loin encased in pastry is a very fine Cotes du Rhone red, 2004 Domaine Alary Côtes du Rhône La Gerbaude, which is rustic with an excellent structure of fruits and peppery spice hints that complement the rich tarragon sauce beautifully.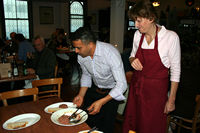 The dish also includes delicious courgettes a gratin and mushrooms with a baked strawberry. The mix of tastes is sublime.
Again it is time for a bit of Maurice's enthusiasm as he explains - while spooning lit liqueur on to the dish - that this flaming of the dish was introduced to French cooking because King Louis the XIV wanted people to take more time and slow down while savouring food.
Maurice likes that as he wants his customers to delight in the flavours of his preparations.
"This is my passion," he says, "my food and contact with my customers. I want them to experience the joy of tasting the food, to know about the food. It is most important to explain meals. It is entertainment for the customers and I love their excitement."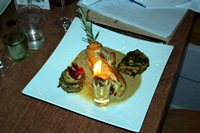 And that shows for throughout the evening you can see the master chef wandering around the tables of Cafe Versailles talking and interacting with people.
Laughter is everywhere and the King of the Tables is thrilled.
And any sweet-toothed diner will be excited by massive Mt Blanc that arrives for dessert. It's at least 10 centimetres thick and the mixture of meringue, whipped cream and chestnut icecream makes this the perfect way to finish off an excellent meal.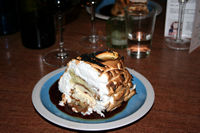 Cafe Versailles is not a restaurant to visit before going to the movies. It is a place you go to savour the food on offer and you must take your time to anticipate it and then enjoy it.
It is fair to say that I doubt if there is a more sophisticated restaurant in Tauranga.
Cafe Versailles is all class and sets a benchmark in fine dining for Tauranga.