Cuba St Food Precinct
The latest Sightseeing, Tours, Attractions & Events in Wellington
Hotels and Accommodation in Wellington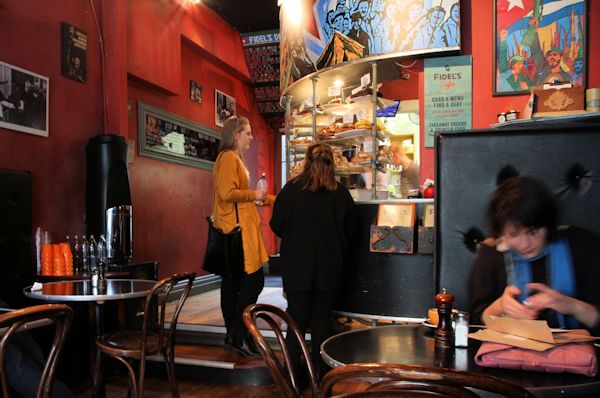 Where's a good place to eat? We asked the Wellington cab driver on the way in from the airport.
"Cuba St," came the instant reply.
We then asked our hotel's receptionist about cafes and restaurants.
"Cuba St," was the response.
Mmmmm, could be something to this Cuba St we thought and, once we had deposited our bags and checked the map, strolled off to the highly recommended thoroughfare.
As we turned into Cuba St near the top end we came straight across a cafe called Fidel's. How fitting, we thought.
So, needing sustenance and some caffeine we popped in to give it a go.
Well, we were impressed. It was busy, filled with an eclectic mix of students, businessfolk and public servants.
The decor was interesting with heaps of Fidelisms and the atmosphere relaxed and low key.
My choice was the Spanish Eggs - a spicy mix of eggs, potato, bacon, beans (and eggs) baked in an iron dish.
I'm not sure what my lady had as I was too busy savouring one of the best items I have had put in front of me for some time. It was so good I didn't bother trying anything else for the several later breakfasts we had there I was sold on those Spanish Eggs.
And, it should be pointed out, Fidel's coffee is Cuban.
Unlike the rest of the street, which is actually named after an 1840 ship bringing settlers to the new country.
Our choice of the other eateries in Cuba St are a very well-priced Asian restaurant, the Satay Noodle House, which has massive servings for under $14. My pick was the rendang beef.
For a really cool hang out place you can't go past Heaven's Pizza.
It is just across from Fidel's and the pizzas are scrumptious. It is also very popular - even in a howling storm - so we would suggest booking on Friday or weekend nights.
Those were the places we tried in Cuba St, but it is a long street and has many other interesting-looking eateries to try.
One you may want to try is at the other end of the pricing spectrum - the acclaimed Logan Brown restaurant.
But Cuba St is more than just food houses, it has a host of exciting shops that you won't find in a shopping mall.
It has been described as being Wellington's Carnaby St - it's been a long time since I was there so I won't judge on that - but to me it is very much like Acland St in St Kilda, Melbourne.
Cool and arty with an attitude.
On Friday nights you should check out the market in Left Bank Arcade.
There is music on offer, fantastic street foods, jewellery and clothing, as well as pop-up food stalls offering everything from kebabs to crepes to Jamaican curries to fabulous chimney cakes.
The night market is fun, vibrant and a great time out.
The latest Sightseeing, Tours, Attractions & Events in Wellington