The Cable Car
The latest Sightseeing, Tours, Attractions & Events in Wellington
Hotels and Accommodation in Wellington
Book the Interislander Ferry to the South Island
Book a visit to Zealandia
Visit Zealandia at night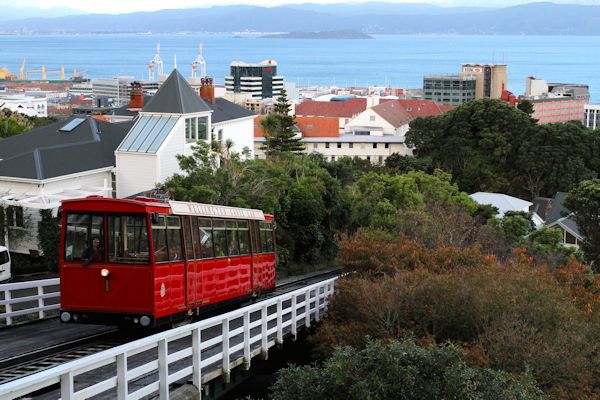 The Cable Car is an easy and interesting way to get to the city's Botanic Gardens or get great views over Wellington and its harbour.
It is more than 110 years old and makes the 600m journey in an enjoyably sedate time.
The gradient is 1 in 5 and the Cable Car zooms along at about 18/kmh.
Now it isn't strictly a cable car, rather is in a funicular. The difference being a funicular is a cable railway, or an inclined plane or cliff railway, in which the cars are connected together and counterbalance each other as they either ascend or descend.
More than a million people a year use the Wellington Cable Car and I must say I take a ride each time I'm in Wellington.
There is a new terminus at the top station near the Botanic Gardens and that includes a nice lookout down the hill and acroas the city and harbour.
The free Cable Car Museum near the terminus is worth looking at with two beautifully restored cars on display.
The cable cars run every 10 minutes Monday to Friday 7am to 10pm, Saturday 8:30am to 10pm and on Sunday & Public Holidays 9am to 9pm.

The latest Sightseeing, Tours, Attractions & Events in Wellington