McLaren Falls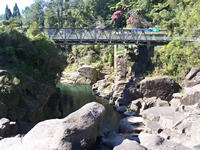 By Richard Moore
Hotels in Mount Maunganui
Hotels in Tauranga
About 20 minutes out of the Bay of Plenty city of Tauranga is a wonderfully tranquil spot that is sure to give you enough quiet time to recharge your batteries.
The place is the McLaren Falls and is an interesting series of small waterfalls and rocky pools that lead downstream to a perfect-looking swimming hole under an iron bridge.
While we were there a group of teenagers jumped off rocks into the pool and seemed to be having an excellent time.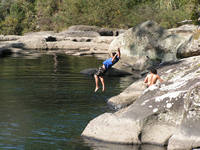 Elsewhere a young couple sat enjoying themselves and cuddling while soaking up the scene.
Kids will love the falls area as it has numerous different ways to get to any particular spot and really offers the perfect place to sit and have a reasonably uninterrupted picnic.
One thing to keep in mind when going to the falls. Wear good runners or boots as the rocks can get a little slippery.
Also a change of footwear and clothes - together with towels - are pretty much essential packing.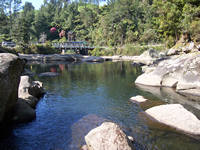 The McLaren Falls can be found, suprisingly, on McLaren Falls Rd - which is in the eastern foothills of the Kaimai Ranges.
There is car parking, but no other public facilities.