Napier
The Art Deco City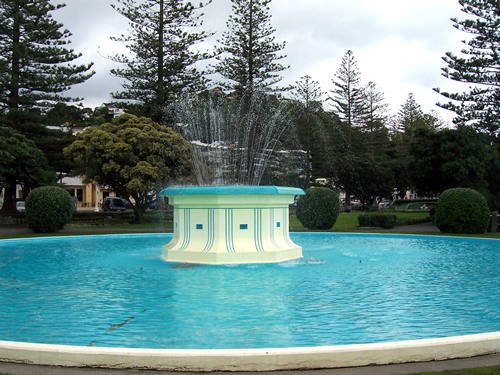 Hotels in Napier
Sightseeing in Napier
Hotels in Hastings 
Hotels in Gisborne 



In 1931 the thriving New Zealand seaside city of Napier was shaken and pushed around by a massive earthquake that not only destroyed almost every building, but also left the landscape unrecognisable. 
For 2.5 minutes the tremor lasted and during that time the entire area was raised almost two metres higher than it was before, 9000 acres of land were pushed out of the water as a lagoon was emptied and more than 2200 hectares of new land rose to sea level.
The quake was New Zealand's largest and was recorded at 7.9 on the Richter scale. The death toll was 258 people, with 162 dying in Napier and 96 in the nearby places of Hastings and Wairoa. 
Fires erupted in both main towns and raged out of control in Napier where the water supply had been destroyed. But out of the terrible blazes that occurred that day in 1931, a Phoenix-like city has risen.
The people of Napier redesigned their home and within two years had the world's most modern city using the styles of the era built what is now considered to be an Art Deco masterpiece. 
Napier's architecture is unrivalled in the world and tourists who are into Art Deco flock there in the thousands. 
The city puts on vintage car weekends and jazz festivals where everyone gets into the feel of the occasion and dresses up in costumes. 
There are guided walks around the city showing off the fine examples of Art Deco with more than 93 buildings and structures boasting the style. If you don't want to take a structured tour the information office has a $4 guide you can buy and just wander around yourselves. 
Highlights for this fellow were the Municipal Theatre, which is seriously cool, the open air Soundshell and the nearby Tom Parker Fountain, which at night is lit by coloured lights. 
The city's museum is a great place to spend some time and it has an excellent collection of Maori art and a gripping short film - about 40 minutes - of earthquake survivors telling what happened on the day the Big One hit.
Exploring Napier you get a very pleasant feel for the place and this is boosted by some excellent cafes and restaurants. 
The city is close to some superb Hawke's Bay wineries - Church Rd, the Mission, Esk Valley, Lucknow Estate and Matariki to name but a few - and there are wine tours for sensible tasters who don't wish to drink and drive. 
Napier's long beach is very wild and not recommended for swimming, however, it is very pleasant to walk down Marine Parade and look at the waves, the houses and some of the most magnificent Norfolk pines. 
There are some cool buildings on Marine Parade, such as the cute Six Sisters - half a dozen buldings of similar design - and a pretty cool artists' shop called Arts on Parade.
Then for some terrific views of the sea and a working port, hop in the car and head up to the Bluff Hill lookout. 
You can spend a lot of time viewing the scenery and even more so watching the goings on the docks themselves. The way those guys move giant cranes around has to be seen to be believed.
There is plenty of accommodation in the town and is a good place to stop over when you are in Hawke's Bay.
Another interesting place to have a look at it Otatara Pa. This is the city's suburb of Taradale and is a fascinating look at a Maori fort.
In fact Otatara Pa is the largest pa site in New Zealand and its strong defensive position has seen many battles fought for its ownership.
There is a loop walk that takes you through the site - complete with wooden palisades and memorial posts - and it can be a little eerie.
Along the way stop and check out some of the views, which are at times outstanding.