Christchurch
A phoenix rising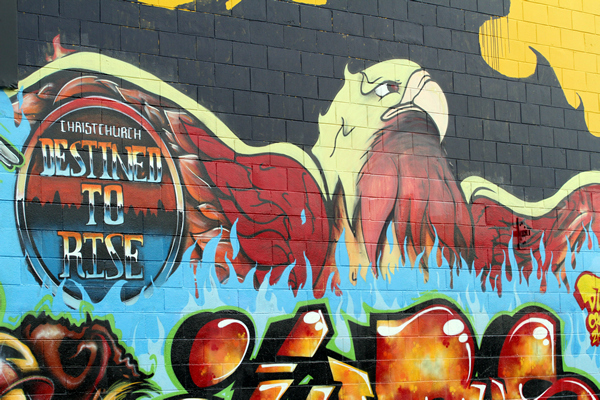 Christchurch rising from the ashes
Devastated by a major earthquake in February 2011 that killed 185 people, Christchurch is rebuilding itself. In 2013 we spent a weekend in the southern capital to see how the reconstruction is progressing and to let you know what is available for visitors.
CHRISTCHURCH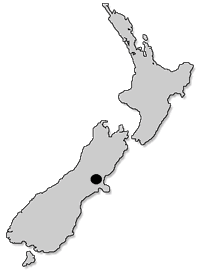 The latest Sightseeing, Tours, Attractions & Events
Hotels and Accommodation
Tours from Christchurch
Coach Tours from Christchurch
Whale Watching Tours from Christchurch
Map of Christchurch
Christchurch City Tours
Pictures of Christchurch (pre-quakes)
Pictures of Akaroa
Pictures of Christchurch Gondola
By Richard Moore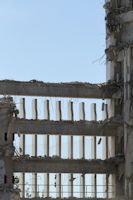 Poor, poor Christchurch. Looking at her wrecked central city area you'd think she has been through a war and has been bombed unmercifully.
To a degree she has ... almost 12,000 earthquakes since September 2011 and a really nasty quake in February 2012 that left 185 people dead.
There are wrecked buildings being torn down and scores of gaps and level areas where offices used to be.
The air is filled with the sound of destruction and construction with jackhammers, rubble being dropped into trucks, and the muscular drone of diesel engines.
If Christchurch were a boxer you initially think she is on the canvas and down for the count. However, while tough as nails, Christchurch is no brawler.
She is a lady.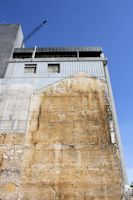 She is a dignified lady with steely resolve, determined to stand again and while her legs may be a bit wobbly on occasion she will not let on and will smile at you gracefully as you enter her domain.
And Christchurch is welcoming travellers again with open arms.
First up I have to say that I was in Christchurch for three days and there was not one earthquake. Not a tremor, nor even a slight up and down, or sideways, movement.
I felt safe. In fact I never gave a thought about the ground moving as there was too much to see and do around the city.
You may think that with all the collapsed buildings and closed off Red Zone areas that the Central Business District would be dead, but that is very far from the case.
There is an energy and life in Christchurch brought about by not only the unflagging spirit of the people there, but their refusal to be broken by nature's brutality.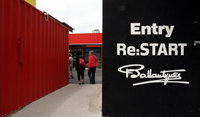 One of the most exciting aspects to the city's re-emergence is Re-Start, a large group of central businesses that sell their wares from shops made out of containers in Cashel St, one of the old commercial areas.
Re-Start is unique and gives the edge of the destroyed CBD a colourful, quirky and lively place to go.
Don't be misled by the container tag, as these former cargo holders have been spruced up and fitted out as classy premises that equal your normal bricks-and-mortar shops.
And there is an architectural touch that makes Re-Start a must see in the city.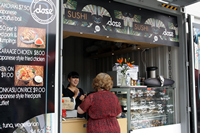 We'll also mention there are a large variety of food outlets in the Re-Start precinct and one recommendation is to try Dimitri's fabulous souvlakis. Take time out to sit down and eat it while enjoying the regular musical entertainment on offer.
Then there are what is known as Gap Fillers. These are quirky, community-focused areas that have sprung up on the empty footprints of the demolished buildings.
You see them around all of the damaged parts of Christchurch and they are really interesting to visit.
Across from our hotel we had an astroturf mini soccer pitch - complete with goals - that people would play on.
Just down the road there was the Dance o Mat - an outdoor dancefloor, complete with mirror ball, that has four speakers on large stands at each corner. For $2 you can plug your ipod into a modified clothes washingmachine and boogey away for 30 minutes.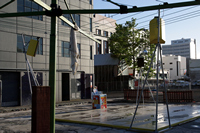 Recently Prince Charles and his wife Camilla, the Duchess of Cornwall, danced there during their royal visit.
Another Gap Filler is a community library where you borrow books to read. It is set up on a vacant lot and the books are protected by their unusual bookcase - an old shop drinks fridge.
Do people steal the books? Not according to the locals, it's all part of a return to a more caring community brought about by what they have been through.
The community aspect of Christchurch is very powerful to see, and the Gap Fillers are the seeds from which a new Christchurch will emerge.
So are the Pop-Ups. These are businesses, usually bars or eateries, that have lost their permanent premises and have reopened on vacant blocks in caravans, shipping containers and one in old buses.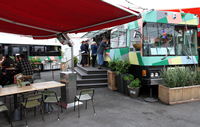 They are fantastic to visit and enjoy good food and drinks from.
The Pop-Ups are informal, friendly and a delight to indulge in, adding more than just their food's flavour to Christchurch's cuisine life.
If you have the time it is well worthwhile strolling around the inner city of Christchurch around the borders of the Red Zone - the off-limits areas where buildings are being pulled down or construction of new ones is taking place.
The area is policed by the Army and, it has to be said, some of the guards are very enthusiastic about their jobs.
I stepped several feet (through an open gate) and was yelled at by a uniformed chap who asked me if I could read. I had several sarcastic comments lined up to vent at him but instead said "I'll only be a second and it is only a few feet."
Many people in Christchurch are not thrilled with the autocratic behaviour of some of fence minders either.
Anyway, walking around the fence lines will give you a good look at the damage done by the quakes and I have to say some parts of town remind me of East Berlin in 1989, where damage from World War II was still to be repaired.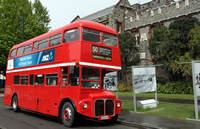 Another way to tour the city is in a red double-decker bus courtesy of Hassle Free Tours. They have one-hour and three-hour tours around the city.
If the weather is fine the first hour of the journey is in an open-topped bus that will take you on a city discovery tour around the damaged Central Business District.
The commentary is informative and the views allow for some great photos to be taken.
And, if you happen to lose your mobile phone, the staff are really helpful and if you ask sweetly enough will deliver it back to your hotel. Thanks guys!
On the bus tour you will travel past one of the most moving sights in the city.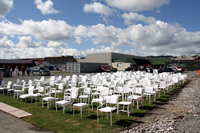 It is a memorial of 185 white chairs representing each of the victims of the disastrous February 22, 2011 quake.
The memorial is across the road from the site of the infamous six-storey Canterbury Television Building, better known as the CTV building, which pancaked during that quake killing 115 people.
Flower and notes are on the fence surrounding the now-empty space. It is a good place to reflect on what happened to the city that day.
A third way to see some of the damage in Christchurch is to go punting on the Avon River, which wends its way through the central city.
For a relaxing time it is hard to go past sitting in one of the boats while someone else propels it along.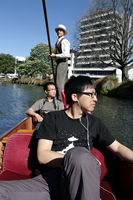 You see some astounding sights along the way - including brick steps turned into solid waves by the quakes, twisted metal bridge support beams and large cracks under other spans.
There is a commentary and you can glide along safe in the knowledge that if another tremor hits you are in one of the safest places to be.
If you are flying in to Christchurch then we can throughly recommend taking a couple of hours to visit the nearby International Antarctic Centre.
It's easy to find - just follow painted blue footprints (and penguin tracks) for a four-minute walk from the terminal.
The Antarctic Centre is terrific for both kids and adults with something that will excite everyone.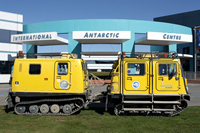 You can get to ride in an all-terrain Hagglund vehicles, get up close to some very cute Little Blue Penguins, thrill yourself in a 4D Extreme Theatre experience or put yourself through an Antarctic storm.
And do take the time to watch the looped movie of Antarctic landscapes. It only goes for 17 minutes but has some utterly breathtaking images of the white continent.
The Antarctic Centre is a must-do, particularly if you are travelling with children - they'll love it.
As mentioned before containers have taken on a life of their own in post-quake Christchurch and not just as Gap Fillers or Pop Up destinations.
In coastal Sumner, containers have been stacked along the road under cliffs to protect vehicles in the case of any more tremors dislodging rocks and throughout the city they have been carefully pushed up against building facades to prevent them falling over. In this way they may be saved when new structures are built to in corporate them.
Now Canterbury is not just about Christchurch as you can see from some of the exciting tours on offer.
Two hours drive away is Kaikoura, home to whale spotting - by boat and air - and swimming with dolphins.
Canterbury is a lovely province that offers beautiful landscapes with the Southern Alps as a backdrop, the delightful town of Akaroa and also ... wineries.
We visited two in the Waipara Valley and are very glad we did.
First up was the magnificent Pegasus Bay Winery, which offers terrific meals on top of some superb wines.
The platter for two was filled with delicious treats and eyeing the plates of fellow diners (as I am wont to do) I must say the meals do look very inviting.
Pegasus Bay is a perfect destination for a weekend tasting session or relaxing meal.
Not far away is Black Estate a winery that offers some of the biggest wines I have had in a long time. It has something to do with the soil mix and that gives the winery's products unique flavours.
You can also enjoy meals at Black Estate, sourced from local products. Here are some more winery tours.
On the subject of food and eateries when in Christchurch you must pay a visit to C1 Espresso.
Before the quake the cafe was regarded as being one of, if not, the best in the city but it got flattened.
Unperturbed, owner Sam Crofskey decided to get the building opposite his old premises and build his dream eatery.
C1 looks fantastic. It is stylish, sexy and sustainable. And, bringing joy to an old journalist's heart, comes complete with a lamson vacuum message system to take the orders through into the kitchen. Ah, the memories of those things in newspaper offices.
Sam's vision is not only daring, but he seems to have the iron will to bring his venture off exactly as he wants it.
We were treated to a delightful rooftop breakfast at C1 and next time I'm in Christchurch the restaurant is top of the list to revisit.
While battered and bruised Christchurch is still a wonderful gateway to southern New Zealand.
Take a trip up to the picturesque Hamner Springs, or go horse trekking, try your hand at salmon fishing for half a day or a full day's outing, or go jetboating for a major adrenalin rush.
The city is rising again and tourists should not be put off flying in and staying because of the damage they see on TV.
Yes, Christchurch is a work in progress and will be for some time, but it is an exciting time to tour as you get to witness the energy and determination of the locals to fight their way back and make the best of the hand that has been dealt to them.
When we stayed in Christchurch we were at the Ibis Hotel in Hereford St.
The Ibis has very comfortable rooms and the hotel is exceptionally well placed on the edge of the city's former Central Business District.
There are eight rooms for people with reduced mobility and 36 connecting rooms. It has a bar and restaurant to cater for guests.
The Ibis was a great place to stay in Christchurch.