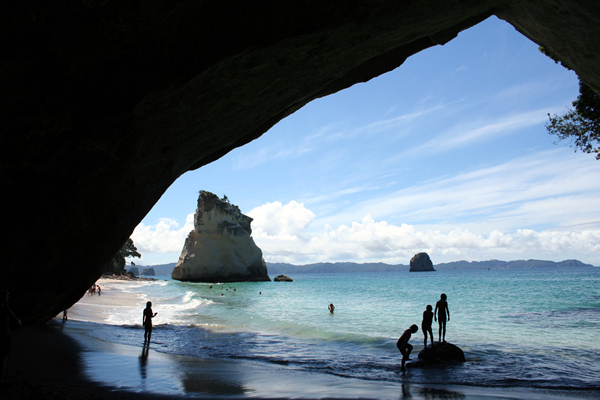 What's to see on the Coromandel Peninsula
COROMANDEL PENINSULA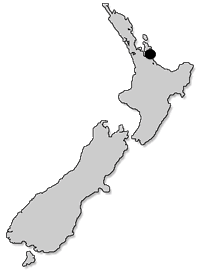 By Richard Moore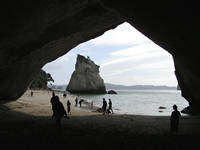 A visit to New Zealand will show you many different aspects of the place from rugged alpine regions, beautiful beaches, adventure holidays and aquatic activities.
Kiwis love the water and are keen to take to the briny in small boats for long weekends away in secluded spots.
One place you can see this is on the Coromandel Peninsula, which is on the east coast of the North Island about halfway between Auckland and Tauranga.
The peninsula is a top spot to sail around with exquisite anchorages and hard to find coves, but you can also explore it at leisure by car.
I say at leisure because some of the roads are pretty windy and although quite compact it can take you a little longer than anticipated.
There are two main parts to the Coromandel Peninsula - the western side that sits on the Firth of Thames and the ocean-side east where you can have some of the best yachting and diving around.
Depending upon what you want to do and see you takes your choice between staying at the old mining town of Thames - which in its heyday had almost 100 pubs to service the local gold mining industry - or over the other side at Whitianga.
Many of the fantastic old hotels remain and while mining and logging have been supplanted by the outdoors and tourism industries you know Thames is a place that has a bit of money behind it. It is also home to some very good cafes.
In Thames you can check out the Gold Mine Experience - a walk through an old mine and panning for gold - a School of Mines and Mineralogical Museum, or the Butterfly and Orchid Garden where you can stop indoors for an up-close encounter with hundreds of the colourful critters.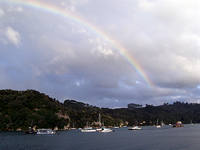 From Thames you can head up the peninsula following the coastal road through small waterside towns and end up at Coromandel Town, a pretty cool spot for a weekend away.
There are lots of small historic buildings, some good eateries - the pub serves huge meals - and plenty of places to stay. We stayed at the new Abbey Court motel. The rooms were very comfortable and tidy and it is about two minutes walk to the town centre.
About five minutes out of Coromandel Town is the amazing Driving Creek Railway.
This not only a really cool mini railway that leads up a mountain to some amazing views of the peninsula, it is also a living workshop for artists - such as potters and glassblowers.
From Coromandel Town you can go on to the Coromandel Forest Park where hikers can go crazy around dozens of walking tracks.
To get to the eastern side you can either follow the main road across the peninsula and then down the eastern coast to the lovely seaside Whitianga or try your luck on the 309 Road. This is a mountain route that it is advisable for four-wheel-drives. It's a short distance, but takes a long time. Along it however there are some pretty amazing sights.
There are lots of places to get some good photos down the coast road to Whitianga and the best bet is to just take your time.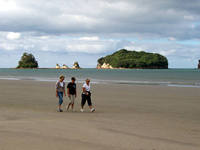 I have scuba dived off Whitianga and it has amazingly big crays, although the autumnal weather did not fire enthusiasm for a scuba dive this time around.
Whitianga is an excellent base for exploring the peninsula and several must-see spots are within easy drive.
The first has to be Cathedral Cove, which can be compared with Port Campbell's Arch along Victoria's Great Ocean Road in Australia.
It is a half-hour hike to a sandy cove where you can swim to a pancake-like rock shelf about 100 metres off shore or walk through an arched cave through to a second beach that has its own tall sandstone island.
The walk down to Cathedral Cove is not easy for the unfit - there are steep parts - but pack a picnic and sit back and relax once you get there as it is glorious.
On the way a five-minute detour will also take you to Stingray Bay where the light green transparent waters allow you to watch rays swimming. Be a bit careful on windy days, however, as I almost got creamed by a native tree branch deciding to drop down nearby. Rocks down the far end of the beach are also prone to detaching themselves from the cliff face so keep close to the water.
You can also see Gemstone Bay - where you can snorkel - but the beach is exceptionally rocky and no good for sunbathing.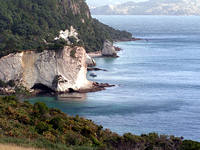 A 5-minute drive from the carpark at Cathedral Cove is the popular beachside village of Hahei. Very crowded in summer Hahei does offer tourists one of the most expensive shops I've ever seen in my life. At the general store you could buy a house with what you pay for fresh fruit so - take your own food to the area.
Not far away from Hahei is Hot Water Beach where, for two hours either side of low tide, you can dig yourself a hole and plonk in for a good soak in hot water. Well, that is if you pick better spots than we did. We have nicknamed the spot Not-so Hot Water Beach. Still when the kids and I were there plenty of people opened up steaming little personal spas near the water.
Be warned the place can get overrun by masses of tourists wanting in on the action but it is all very friendly and if you have sense you'll dig a hole near one of the hotter pools and then dig a channel to borrow some of their water, which can get hot enough to cook food in!
And if you want to get away from it all check out the Hot Water Beach Holiday Park.
Heading south are the places of the rich - in Pauanui and Tairua, which are connected by a small ferry that takes you across an interesting mangrove estuary.
If you have the time - and strong legs - head up to the summit of Puka, a cone-like hill that gives you magnificent views of Tairua and Pauanui.
Next up, following a good southerly drive down a coast filled with good spots to stop and get some great scenic views, is Whangamata.
It has a wonderfully wide, hard sand beach that is just perfect for beach cricket, or footy, and there are just-offshore islands that offer good diving or else just something interesting to look at.
The Coromandel is a fascinating mix of New Zealand with both alternative and rich folk mingling in seemingly pleasant ways.
This offers a good chance for excellent food and good walks with which to exercise off the kilos.
Mind you its proximity to Auckland means that anyone driving through the area will be taken to be an Aucklander and will be charged like a wounded bull. Take a full wallet.