Rotorua
A Thermal Wonderland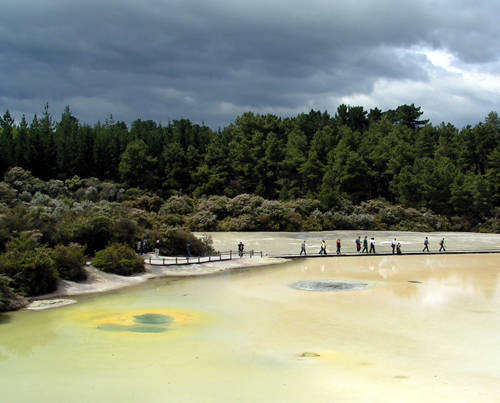 What's On in Rotorua
ROTORUA

Adventure in Rotorua
Photos of Rotorua
Adventure Photos of Rotorua
Sightseeing, Tours, Attractions and Events in Rotorua
Hotels and Accommodation in Rotorua
Book a trip out to White Island
Book a trip out to White Island with transfers from Rotorua
Book a trip out to White Island with transfers from Tauranga
Book a trip out to Moutohora Island Sanctuary
By Richard Moore
For one of the great and unusual travel treats then you should set aside time to visit Rotorua and its thermal wonderland in the centre of New Zealand's North Island.
Rotorua is world-famous for its thermal activity, which includes boiling mud pools and massive geysers, the buried village of Te Wairoa, its Blue and Green Lakes, and being one of the heartlands of the Maori culture.
The main thermal areas in Rotorua are at Whakarewarewa, Wai-O-Tapu, Waimangu and the aptly named Hell's Gate.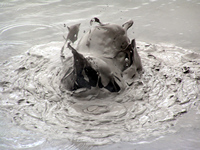 They are amazing places to visit and will show you just how exciting and violent volcanic areas can be.
The Buried Village was wiped out in 1886 by a massive eruption from Mt Tarawera that killed 153 people and covered the area in ash.
Today it is a fascinating place to visit to see how village life was in the 1880s.
To get your bearings in Rotorua you can take the Rotorua Duck tour in the comfort - well, almost - of a World War II DUKW amphibious transport.
If you are into fishing then Rotorua is also a place to head towards.
There are fishing expeditions on the beautiful Blue Lake and Green Lake and if you would rather look than dangle a hook you can see the Rainbow Springs and Rainbow Farm Show.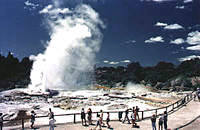 At the Agrodome in Rotorua you can get up close and personal with New Zealand wildlife and see an hugely entertaining show all about sheep, shearing them and the dogs that are trained to muster them.
This is a show that everyone seemed to enjoy and there are lots and lots of laughs to be had for both children and adults alike. It's educational too.
For the more adventurous Rotorua offers a host of activities from jet boat rides, Zorbing and OGO-ing - rolling down hills in giant rubber balls - or see how you'd go skydiving in a powerful jetstream of wind at Freefall Extreme.
For some spectacular views of Rotorua go on a Skyline Skyrides mountain-top gondola, or white-water rafting and four-wheel driving.
Outside Rotorua, at nearby Te Ngae, you can treat yourself to a huge 3D Maze where you can find yourself happily getting un-lost for a couple of hours.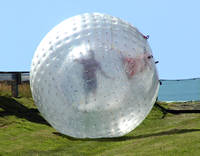 The kids will love this but make sure you know where you are as there is nothing more embarrassing than having a lost child ask where to go next and you telling them you were just about to get them to lead you out!
Also, between Rotorua and Tauranga, there are the pleasant Okere Falls and a little village that offers kayaking.
If you only have a short time in New Zealand then Rotorua offers a marvelous glimpse at the life and culture of New Zealand.
Now as you would expect an area so strong in thermal activity has, how can we say it, a slight smell of sulphur and Rotorua is no exception.
The strength of the smell varies but, worry not, if it does hit you on the nose it doesn't take long for your senses to adjust so you need not fear walking around with a handkerchief over your nose for your entire stay!