Luxury alpine retreat at Mt Ruapehu in NZ's central North Island
Book a stay at the Chateau Tongariro
Pictures of the Chateau Tongariro
Pictures of the Central Plateau
By Richard Moore
Need a fabulous weekend getaway spot? Well we've just the place for you.
It is situated among some of the best alpine scenery in New Zealand, is close to the major North Island skifields and has a luxurious ambience and style.
Chateau Tongariro is the establishment and she is the Grand Lady of the Mountains, a hotel that contains all of the elegance of days gone by - but with all the modern conveniences.
And, above all, it is surprisingly affordable.
You first see her as you drive up State Highway 48, having passed through some countryside that offers superb views of Mt Tongariro, Mt Ngauruhoe and Ruapehu herself.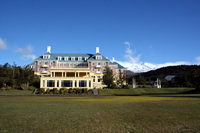 There Chateau Tongariro sits as a symbol of civilisation right under the majestic backdrop of Mt Ruapehu. From a distance she looks small, but that belies her actual size. This is a hotel of substance and of standards.
The staff are immaculately dressed, perfectly mannered and very well trained. They are friendly and attentive, without you ever getting the feeling you are being hovered over. And here's a tip for many other tourism organisations - while the Chateau has quite a number of younger workers they always seem to have an older hand nearby to assist if needed. It rarely is.
Now when you consider that a decidedly average motel will set you back about $120 a night, the deals on at the Chateau will have you wondering why you hadn't thought of it before.
And better yet - you won't find many hotels around New Zealand that have the stunning surroundings on offer at the Chateau.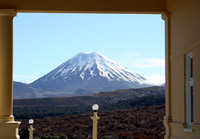 If you are there in the warmer months - and I have to suggest spring as my choice because you still have plenty of snow capping Ruapehu and the nearby sisters of Tongariro and Ngauruhoe - you will get to see vistas not possible in winter.
And for photographers, I reckon the scenery is better away from winter as the uncovered rock formations are pretty spectacular and make for some fabulous images.
And after a hard day out clambering over rocks and climbing slopes taking photographs having a relaxing drink in the Chateau's lounge was heavenly.
You can take a position looking out windows to get wonderful views of Mt Ngauruhoe, plonk down in the reading room, or just enjoy the click of snooker balls on the full-size table.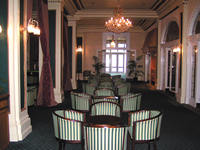 Apart from the luxurious surroundings and very comfy couches you can flow into, the ease with which you can chill out comes from the fact that while at the Chateau you get the feeling it is very poor form to make a lot of noise or bother other guests.
It is all very polite and well mannered and that is worth bucketloads, or champagne glasses full anyway.
The rooms at the Chateau are excellent. Nothing is over the top. It is simple, stylish and elegant.
They are nicely balanced with neither too much, nor too little, space. The TV and other essentials are tidied away within a giant robe and there is a handy little table and two chairs placed by a window so you can sit and enjoy good reading light or just watch the other guests as they play golf or wander about.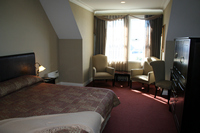 In the bathroom there is underfloor heating - a godsend as it does gets cold up in them thar mountains - a good shower and a spa bath large enough to loll about in for hours.
And for the gals there is plenty of mirror space with which to dress by for dinner.
Now a meal in the Ruapehu Room is one of the things you must do while staying at the Chateau.
The menu is terrific and the dining experience definitely adds to the occasion of a weekend away. And, to get the full benefit, you really must make an effort and dress up. I was slightly disappointed some of the guests snuck in to eat in jeans and sneakers, but then I can be a dreadful snob.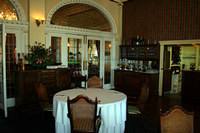 Two must-haves on the menu are the mushroom and truffle ravioli - it was gorgeous - and the venison was to-die-for.
The Ruapehu Room is not cheap but on a weekend away treat yourself to at least one evening meal there - you will be glad you did.
What's Available at Chateau Tongariro:
Banquet Facilities
Bar
Lounge Billiards
Conference Facilities
Gym
Fitness Facilities
Jacuzzi
Restaurant
Sauna
Tennis Court
Check out packages at the Chateau Tongariro
.
Mt Ruapehu
Book Hotels
Located in the middle of the North island, Mt Ruapehu is some 335 kilometres south of Auckland in a volcanic region that includes Mt Ngarahoe and Mt Tongariro.

Whakapapa: This is the biggest and most used skiing area in New Zealand and covers a whopping 400 hectares. The ski fields are on the north-western side of Mt Ruapehu and offer everything for everyone. One fifth of the area is good for beginners, almost two-thirds will suit intermediate skiers, while advanced skiers and snowboarders will have a fifth of Whakapapa to themselves. There are more than 30 runs with 17 high-capacity lifts making getting back to the top hassle-free.

Average snowfall: 400 cm.
Highest lift: 2300 metres.
Vertical drop: 670 metres.
Lifts: 17. 10 main, 7 beginner tows.
Facilities: cafes and bars, children's creche, children's programme.
Season: Late June - Late October.

Turoa: Also situated on Mt Ruapehu, but on the south-west side, Turoa is similar in size to Whakapapa but has a slightly larger beginners' area. One quarter of its runs are suitable for novices, 55% for intermediates and advanced skiers and snowboarders have around 20%. Turoa has the largest vertical drop in New Zealand and Australia and is renowned for excellent skiing in Spring.
Average snowfall: 450 cm.
Highest lift: 2322 metres.
Longest run: 4 km.
Vertical drop: 720 metres.
Lifts: 11. 7 main, 4 beginner tows.
Facilities: Cafes and bars, children's programme.
Season: Late June - Late October.