Auckland's Waitemata Harbour Highlights
Click for Auckland's latest Sightseeing, Tours, Attractions & Events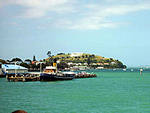 Built on a narrow isthmus, Auckland actually boasts two harbours. The Manuakau is the south-western harbour, while the main more attractive body of water is the Waitemata.
From the downtown area of Auckland you can catch numerous ferry services that will take you around the Waitemata - one of the world's most beautiful harbours.
There are several main islands in the Waitemata Harbour and neighbouring Hauraki Gulf and they are great for day trips.
There is Waiheke Island, where you can visit art studios, wineries or just enjoy some spectacular scenery, take a ferry trip and explore the extinct volcano of Rangitoto, which provides great opportunities for walks and if you are reasonably fit you can climb to the top for a truly unforgettable view.
Only a few minutes away from downtown Auckland by regular ferry service is the lovely harbourside village of Devonport. Swim at the pleasant beach there, stroll around the peaceful atmosphere or indulge in a bit of retail therapy at some classy boutique stores.
And for a different view of Auckland and its beautiful harbour take a deep breath and take a tour to climb the Auckland Harbour Bridge.