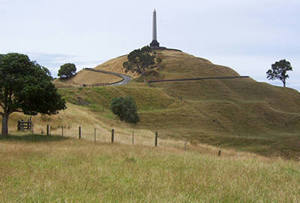 By Richard Moore
One Tree Hill is one of Auckland's most recognisable landmarks and from its summit you get 360-degree views of the city.
It was formed up to 30,000 years ago and is one of several inactive volcanos in the Auckland area. The others include Mt Eden, Mt Wellington and Rangitoto Island.
Situated within Cornwall Park, One Tree Hill has at its peak a large obelisk that was erected early last century as a tribute to the local Maori population. At the time it was feared disease was about to wipe out the Maori.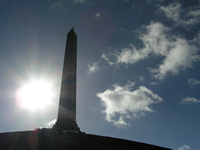 On its slopes are more than 170 man-made terraces that formed parts of three old Maori forts or pas. These make up what is believed to be the world's biggest pre-historic earth fortifications.
One Tree Hill has been public land since the 1840s and until recently was topped with a single pine tree. This was attacked and badly damaged by a political activist and was later cut down.
Today One Tree Hill offers Aucklanders and tourists a peaceful place in which to walk, jog, picnic or just sit and relax and enjoy some truly spectacular views.