Labyrinth at Te Ngae Park
Rotorua Highlights
Adventure in Rotorua
Adventure Photos of Rotorua
Photos of Rotorua

By Richard Moore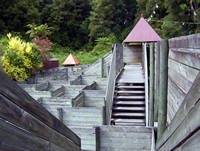 Tucked away off the main road east into/out of Rotorua is a fun place that should give computer-age kids (and yourselves) something a bit different in the way of entertainment.
It's at Te Ngae Park, about three kilometres past Rotorua Airport, and is a huge wooden 3D Maze made up of 57,000 metres of wood.
The walls are too high to peek over - even for tall folk - but to save those fearful of enclosed spaces from the terrors you can actually scoot through gaps at the bottom of the planks. Mind you, that would be cheating and ruins the fun of the labyrinth.
The aim is to go in one of four entrances, make your way around either an easy or tough course and get to each of four coloured mini towers. They are blue, red, yellow and green.
Oho, you say, this will be easy … but, believe me, even the brightest of folk will make more than a couple of wrong turns and end up in dead ends.
And the rules say that once you've made your way to all four corners you have to get out by using the same entrance you went into the maze.
Our posse of kids had a ball running around blaming us every time they hit a walled end and the good lady and myself had to rescue them from confusion on a couple of occasions.
The 3D Maze is good like that as you can reassert all-knowing authority over seven to nine-year-olds by showing you are better at it than they are.
If you want to visit the 3D Maze then you need to keep an eye out for the road signs, particularly if you are coming in from the east and Tauranga.
The signs to the maze are only on the opposite side of the road due to officialdom and if you get to Rotorua Airport you've gone too far.
Apparently the bureaucrats have ruled signs to the 3D Maze can't be made too obvious because officials fear they could distract drivers. Mind you, for a fee of $5000 the owners have been offered billboards …!!!
The 3D Maze is very reasonably priced and for three kids and two adults we only forked out $24.
In a tourist town - that's almost free!