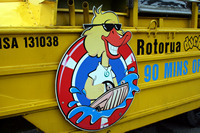 By Richard Moore
For a very different - and fun - look at Rotorua then put aside 90 minutes and hop on board Rotorua Duck Tours.
Now just to set the scene - and the tone of the journey you are about to embark on - you are handed a plastic quacker when you hop aboard the Duck, or more accurately the DUKH.
The Duck is a bright yellow amphibious craft from WWII that can also motor about on the roads.
Your guide for the outing, in our case Grant, is known as the Conducktor. He will entertain you with information about Rotorua and its environs in a very amusing way and one of his many tasks is to get you to quack your quacker as loudly as you can at just about everyone and everything you pass along the way. Except the hunting shop - for some reason that has an exemption.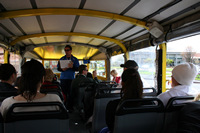 Anyway you begin your tour down at Lake Rotorua where the conducktor will fill you in on various Maori legends of the area, including the real-life love match of Hinemoa and Tutanekai.
From there you set off at a surprisingly brisk pace to the Government Gardens, zip around the Museum and Blue Baths, check out Sulphur Point (where Rotorua gets most of its odour from) and then on to Lake Tikitapu, the Blue Lake.
For an old girl the DUKH does motor and it's with some excitement, not to mention masses of water, that you splashdown in the Blue Lake for the first of two amphibious ventures out on to the water.
And, for a heavy beast, it's suprising how the Duck takes to the lake like a DUKH to water. Funny that. After a bit of a spin on Tikitapu, where you get to see the vessel at top speed on the water (it doesn't seem much faster than its low speed) it's then back on to land for a trip to Lake Okareka.
There you ogle houses of the idle rich - and the idle fabulously rich - before doing a safety check and then motoring back to the drop-off at Rotorua's I-Site.
As said before the Duck is a fun thing to do and the kids love their quackers, which also provide you with discounts at various places around the city.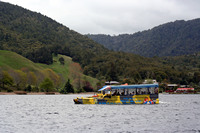 Grant the Conduktor was very personable and funny guy who had the tourists enjoying themselves immensely. Oh and listen up as there is a quiz at the end.
The Duck is well worth doing.
Tours depart from the Rotorua I-site Fenton St.
Departures Times: Summer - 11am; 1pm; 3.30pm. Winter - 11am, 2.15pm.
Tours depart 7 days per week (except Christmas Day), regardless of rain.