Geothermal Wonderland Tour
Rotorua Highlights
Book the Geothermal Wonderland Tour
Boiling Mud at Waiotapu
Champagne Pool at Waiotapu
Sightseeing, Tours, Attractions and Events in Rotorua
Hotels and Accommodation in Rotorua
By Richard Moore
Visitors to Rotorua have been thrilled at the geothermal attractions for the past 160 years.
The Geothermal Wonderland Tour takes in the most spectacular of Rotorua's famed geysers and hot pools.
They include the Wai-O-Tapu Thermal Wonderland, which means Sacred Waters, an area crammed with active geysers, boiling mud pools, coloured hot springs and terrace formations.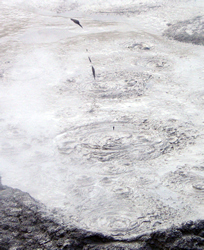 Wai-O-Tapu is 25 kilometres south of Rotorua and features the Silica Terraces, Champagne Pool, Artist's Palette, and Lady Knox Geyser. This geyser erupts at 10.15am (helped by scientists) and goes for about an hour, reaching heights of about 20 metres.
There are good pathways through the thermal areas and a good cafe.
The Thermal Wonderland Tour also includes a guided walk through the Waimangu Volcanic Valley where you can see Frying Pan Lake and the stunning colours of the Inferno Crater.
The daily morning tour takes 4.5 hours and starts at $US58 per person. Children between 5 and 14 years qualify for a child rate. Departure times are between 8am and 8.30am and pick-ups from hotels in Rotorua are available.