OGO Rotorua
Rotorua Highlights
Adventure in Rotorua
Adventure Photos of Rotorua
Photos of Rotorua
Rotorua Details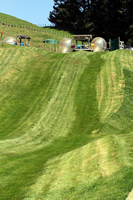 By Richard Moore
Rotorua has added to its long line of attractions and things to do with the creation of OGO.
If you don't know what OGO is then the best way I can describe it is as being like Zorbing, only with a different name.
OGO was invented by one of the masterminds behind Zorbing, Andrew Akers, and involves hopping into a giant rubber ball and then rolling down furrows on a hillside.
It may sound slightly mad but let me tell you almost everyone who has tried it has loved it.
There are different types of OGOs and several runs to make downhill.
First up there is the H2OGO, which naturally is a giant ball that contains a bit of water - read 40 litres worth - and you and up to three friends can slosh down the track having a whale of a time.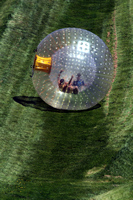 In summer the water is cold and in winter it, thankfully, is warm.
Then you can try the Sidewinder a 350m long wet ride down the twistiest track yet set up.
Again you get the water treatment but the fun bits are building up speed in your OGO and then riding huge corners.
Those who want even more adventure can get harnessed within an OGO and zip down the slopes tumbling within the giant ball.
I may leave that for younger people ...
And one that is definitely not my cup of tea is the Fishpipe.
This again has a harness, but you are sent downhill while spinning within the OGO.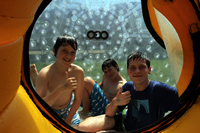 If you are not sure about the adventure you are about to go on then you can have a slow rotation or those liking extremist fun can pick the furious setting.
Then off you go rotating at 35-45 rpm.
You can hire gear to keep your own clothes dry and the OGO guys and gals also take videos of your journey down hill that you can buy.
OGO is on the main road in and out of Rotorua, next to Rainbow Springs and Skylines Skyrides.