Rotorua Thermal Wonderland
Photos of Rotorua
Adventure Photos of Rotorua
Wai-o-tapu
Waimangu
Sightseeing, Tours, Attractions and Events in Rotorua
Hotels and Accommodation in Rotorua
By Richard Moore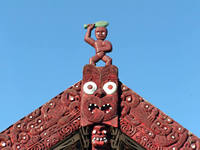 If you want to see one of the most amazing places to live, then take a trip to Whakarewarewa at Rotorua in New Zealand's North Island.
It is a community of around 70 families that live among hotpools, geysers and boiling mud pools - not to forget being a major stopping-off point for busloads of arriving tourists.
Walking through the gates of Whakarewarewa you think it is just going to be another thermal attraction, but as you move around - with or without guide - you are hit by the fact that there are people's homes nestled in and around the steaming pools.
Washing hangs out on lines and people stand around talking, usually oblivious to the Japanese schoolgirls or Australian tour parties that wander around.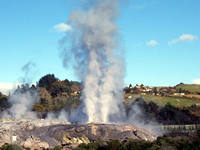 The members of the Tuhourangi - Ngati Wahiao, a Maori family group, have been around Whakarewarewa for more than three centuries and their ancestors moved into the area after the 1886 explosion that destroyed much of Mt Tarawera and the fabled pink and white terraces.
The main attraction at Whakarewarewa is the Pohutu geyser, a truly impressive water spout that shoots boiling water up to 30 metres into the air. It erupts once or twice an hour and usually lasts up to three minutes.
Nearby is the smaller, but still interesting Prince of Wales geyser that gets its name from the shape of its spouts looking like the feathers on the royal coat of arms.
One of the much-talked about attractions at Whakarewarewa is the penny diving, where local boys jump off a bridge to retrieve coins thrown in by visitors. It may be work to them, but it sure looks like a lot of fun.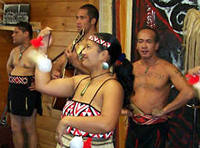 Out the back of the village - about 10 minutes walk along a pathway - is a small green lake known as Emerald Lake. It is remarkably peaceful there and you can get close to some small mud pits along the way.
If you want to see the darker side of thermal areas then take a slight detour from that path and wander across a wooden walkway through an area that could be part of Dante's vision of purgatory.
The ground is grey and rocky and the mud dark. Steam eerily moves off a small lake while more seeps out of some very mean looking holes in the ground.
Signs say cross at your own risk and you can understand how people could be a bit leery of it. But, it has to be said, it was this part of Whakarewarewa that grabbed my fancy more than the other areas because it truly suggested the primeval side of thermal areas.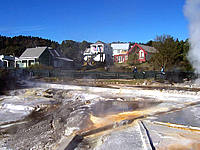 Visitors can also get to hear a local tribal welcome and then listen to a small concert performed by the local folk. The singing is terrific and the audience while I was there was very appreciative of the cultural aspect of Whakarewarewa.
The shows go for around 30 minutes and begin at 11:15 am and 2:00 pm. While there you really should try the Maori style cooking of the hangi, where the food is steamed buried underground or in the hot pools themselves.
It is a delicious treat - and beats Weight Watchers hands down!
Now Whakarewarewa is not the most impressive of the thermal areas to tour in Rotorua - it lacks the spectacular colours of Wai-o-tapu and the prehistoric feel of Waimangu - but, if you have an hour or so to spare, it is worth visiting to see Pohutu and how a community lives in such a rare area.
Tickets
Adults $20
Children 5-12 years $10
Group Discount (10+) $17 per person
Family Pass (2 Adults & 1-4 kids) $50
Hours of Opening 8.30am to 5pm everyday, except Christmas Day.