Zorbing at the Agrodome
Adventure Photos of Rotorua
Photos of Rotorua
Rotorua Details
By Richard Moore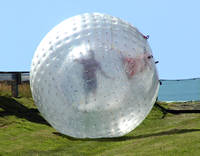 New Zealanders, or Kiwis, seem to have a knack of creating weird and wonderful activities that they can turn into tourist attractions.
First off the rank would have to be bungy jumping, closely followed by Zorbing.
Zorbing has been around for about eight years and the latest zorbs - giant rubber balls that you hop into and then roll down a steep hill - are, according to the experts, the hottest yet created.
If you want to Zorb then you have to take yourself off to Rotorua in the central North Island of New Zealand and head to a place called the Agrodome.
While there you can check out exhibitions about New Zealand's agricultural industry - including a live sheep show that is very entertaining - and also get your adrenalin surge in the associated adventure park.
Hop on a jetboat called the Agrojet, bungy jump, or Swoop on a horrifying giant contraption.
Or you can Zorb.
There doesn't seem to be too much to it. You get changed into special shirts and shorts, get driven to the top of a good-sized hill, wait while the zorb gets a couple of bucketloads of water poured into it and then you squeeze through a tube-like doorway into the inner ball.
Once there you get your head together before pushing on the wall of the zorb and disappearing down the hill at an ever-increasing speed.
Some folk run down inside the zorb, while others site down and just let the rolling do the work for them.
Children too small for the downhill run can have a go at being in a zorb - but on flat ground.
The Zorbing area is on the right hand side of Western Rd past the Agrodome in Agrodome in Ngongotaha.