Knights of the Sky
By Richard Moore
If you are in to World War I planes and the early days of air warfare then you must head along to see the Knights of the Sky exhibition at the Omaka Aviation Heritage Centre in Blenheim.
It is simply fabulous. Goodness knows what it cost to put together but the museum folk have done a sensational job in creating magnificent settings for their WWI displays.
We bowled in thinking "This will be a nice display" and within seconds I was picking my jaw up off the floor at what appeared before my eyes.
Located at Marlborough's Omaka Aerodrome, the centre was established to provide a world-class destination for the appreciation of historic aircraft.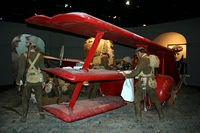 The Knights of the Sky exhibition is the first stage of the centre and New Zealand's most respected cinematic and special effects craftsmen have created scenes in which original and full-scale replica WWI aircraft - both static and flyable - are presented in all their glory.
Covering some 3000 sqm the display area shows off one of the largest collections of World War I aircraft and rare memorabilia in the world.
It is a memorable place to visit for anyone, but if you are into planes then it is a must, must see..
Opening Hours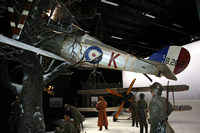 The Omaka Aviation Heritage Centre is open 7 days a week from 10:00am - 4:00pm except Christmas Day, Boxing Day and New Year's Day.
Special ANZAC Day Opening Hours We will be open from 1pm – 5pm on 25 April. Commemorate ANZAC day by visiting the 'Knights of the Sky' exhibition and learn about the air war of 1914-18.