What's On in Taranaki
Hotels and Accommodation in New Plymouth
By Richard Moore
TARANAKI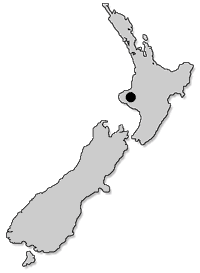 The New Zealand province of Taranaki is a little hard to describe. It is positioned away off the main routes through New Zealand and that, possibly above many things, makes it a quiet and lovely place to travel through.
Taranaki is famous for a number of things - fabulous all-round surf, lush farmland, being one of the oldest European settling areas in New Zealand - and above them all the towering majesty of Mt Egmont, also known as Mount Taranaki.
She stands 2518 metres high and is one heck of a stunning sight in good weather. Mt Egmont looks remarkably like Mt Fuji in Japan and doubled for her during the making of The Last Samurai with Tom Cruise.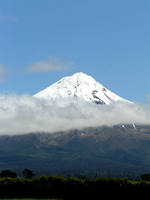 Wherever you are in Taranaki there Mt Taranaki stays within your sight - in good weather that is. She can be obstinate to tourists and has a habit of covering herself in clouds from the Tasman Sea.
One farmer we chatted with said "She's been out all week, but now she's staying in." Not very good when you have a limited time in the area and your No.1 priority is to get one photo of the mountain.
Anyway after a two day search we finally located Mt Egmont and she revealed herself to us on a gorgeous spring afternoon. It was worth the wait.
Taranaki's black-sand surf beaches stretch for miles and cover 180 degrees - it sits on a large cape of New Zealand's west coast - so you can almost guarantee good conditions from at least one direction.
It has a quality Surf Highway around the coastline and plenty of small towns in which to grab a bed or a bite to eat.
If motels are not your thing then there are beachside cabins and camping sites galore. The major surf towns are Opunake and Oakura.
When you are going a little off the main road you need to keep a bit of an eye on your watch - for milking time - and also herds of cows ambling down the roads. We got stuck behind one dozy mob and I reckon it took about 15 minutes to edge our way through.
As you make your way along the coastline be sure to stop and have a look at the Cape Egmont lighthouse. Turn at Pungarehu and then travel a few kilometres down the road.
Not only do you get the lighthouse but there is a great beach of large stones to explore. Seafood lovers may want to try their hands at catching some of the large and tasty-looking crabs hiding in the rocks.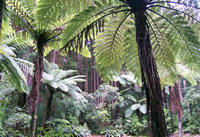 There are plenty of walking tracks on and around the Egmont National Park and a very pretty waterfall on the mountain at Dawson Falls. It is easy to get there as the road passes close by and then there is a five-minute walk down to the base of the falls. Nearby is a lodge, cafe and toilets. The toasted sandwiches are good and so is the coffee!
Lucy's Gully offers tranquil forest walks amid bush and redwood trees and the Hollard Gardens are worth stopping at for horticultural devotees.
The major inland attraction is Stratford - named after Shakespeare's town - and the locals play up big on it. There are street names aplenty from the works of Shakespeare featuring such characters as Prospero, Romeo and, of course, Juliet.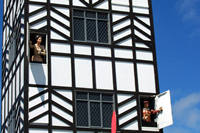 Speaking of Romeo and Juliet, Stratford has New Zealand's only glockenspiel, or playing clock. It stands in Elizabethan isolation on the main street and at 10am, 1pm and 3pm every day it opens up to deliver lines and characters from Romeo and Juliet. Adults will find it fun and the kids will adore it.
Also in Stratford is the Taranaki Pioneer Village where visitors can stroll around historic buildings depicting the days of the early settlers.
Taranaki's main city is the lovely coastal New Plymouth, which has a sedate style to itself. The cafes are good, so is the local newspaper, and New Plymouth exudes a self-contained charm.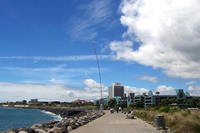 One of the major attractions in New Plymouth is Puke Ariki - a combined library and museum. Just across the road on the Coastal Walkway is the amazing Wind Wand by Len Lye. It is a bendable sculpture that sways with the air current and is quite something to see.
Taranaki is a really pleasant place to tour around, with good roads, good sights and really friendly people always eager for a chat or to help you. A wonderful part of New Zealand.