West Coast
WEST COAST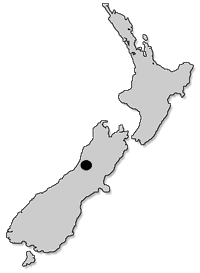 Fox Glacier Hotels
Fox Glacier Tours
Franz Josef Hotels
Franz Josef Tours
Sightseeing, Tours, Attractions & Events in Christchurch
Hotels and Accommodation in Christchurch

By Richard Moore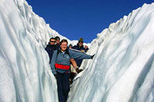 If wilderness of a spectacular nature and large national parks grab your fancy then you may want to consider a visit to the rugged and beautiful West Coast of New Zealand's South Island.
It sits on the Tasman Sea and while one side is bordered by the common water with Australia, the other is hemmed in by the glorious Southern Alps.
The West Coast stretches for some 600 kilometres from north to south and is only some 70 kilometres wide at its broadest.
It may be small but within this area are five of New Zealand's famed national parks, more than a third of the country's total. They are the Kahurangi, Paparoa, Arthur's Pass, Westland and Mt Aspiring areas.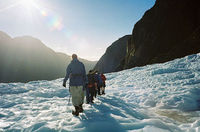 Throw in New Zealand's highest mountain, Mt Cook, a rich history of gold mining, adventure tours and spots for thrillseeking and you can see why tourists make the effort to see its rugged beauty.
There are few major population centres on the coast, the town of Greymouth is the largest and its central position in the region makes it an excellent base for touring around.
To the north there is Westport, population 5000, and to the south is Hokitika with some 4000 residents.
Greymouth also has a full set of modern services - as befits a place of 15,000 inhabitants - and if you need a bank or medical attention then that's the place to head.
Outside Westport is the Tauranga Bay seal colony where up to 100 New Zealand fur seals can be found. If you want to see seal young, or pups, then the best time is mid-November through to mid-January, when they are born, although they stay around for most of the year because they are suckled by their mothers for 10 months.
If you travel north from Westport you can take a turnoff to the old mining town of Denniston, once the largest coal-producing place in New Zealand, or continue through to Karamea and New Zealand's second biggest national park of Kahurangi.
At Denniston you can marvel at the Denniston Incline - a stunning piece of engineering work whereby empty coal haulers were dragged back to the top of the at times 1 to 1 gradient by the weight of full cars heading downwards.
In Kahurangi's half-million hectares, which is more easily accessible from the more northern Marlborough Region, nature lovers rave about the abundance of wildlife and plants. There are more than 100 species of birds and half of New Zealand's plant varieties within its borders.
From Karamea you can partake of kayaking, mountain biking and hiking. The Heaphy Track, rated as one of the country's finest, is within easy reach and you can either wander its diverse 82 kilometre length or take a day hike up to the Heaphy Hut.
Between Westport and Greymouth is Paparoa National Park and one of its major attractions the Pancake Rocks - formations of limestone rocks that resemble stacks of thin pancakes. They are formed by stylobedding where softer sections of rock are weathered away to leave the interesting shapes. Added to the visual treat are the blowholes that at high tide fire water spouts metres into the air.
Continuing south from Greymouth trout fishers can detour to Lake Brunner and its famed waterways, which have been lauded (by locals of course) as the best spots to cast a fly in the country.
Back on the coast some 40km south from Greymouth is Hokitika which has renown as New Zealand's main centre for producing greenstone, or jade, carvings.
A little further south and tourists can stop at the historic town of Ross where New Zealand's largest gold nugget was discovered. Mining continues today and there is a miner's cottage museum.
South of Ross you are entering glacier country and the first big one you come across is the Franz Josef glacier, which has been known to move at a gentle five metres a day.
In giant ice wall terms - that's sprinting!
On a sunny day the glacier offers spectacular ice vistas and the contrast of blue skies on snowy mountain peaks. There are a myriad of tracks to hike along, guided tours, helicopter hiking - whereby you are deposited on the glacier from the air - and blue-ice caves.
Only 25 km away from Franz Josef is Fox Glacier, another breathtaking opportunity for photographers, and the picturesque Lake Matheson. Just about everyone who visits the area suggests taking time to wander around the lake (one hour of effort) for some of the most sensational views of Mt Cook and Mt Tasman. The best light for pictures is early morning or evening.
Often overlooked by New Zealanders, the West Coast is an amazing destination for travellers with a taste for rugged mountains, beautiful bush walks and crashing seas.