Wind Farms near Woodville
By Richard Moore
On a recent trip through the central part of New Zealand's North Island we came across the biggest wind farms in the southern hemisphere and they looked utterly spectacular.
The farms are on Saddle Rd near Woodville and straddle the Tararua mountain range north of Palmerston North.
In all there are 158 of the 70 metre high turbines and they sit like giant children's windmills on the horizon.
They look amazing from a distance but you can drive right up under one and get to experience just how phenomenal they are.
The triple blades on these giants are 35 metres long and spin around with a fantastic whooshing sound that really piques the senses. That's the only noise you hear and you wonder why people would object to such a sensibly green energy option.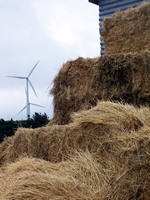 Each of the turbines can produce 1.65 megawatts of power, enough to cover the needs of up to 900 average homes.
Electricity is created when the winds spins the rotor blades and that in turn drives the turbines.
Each triple blade unit can rotate at up to 17 times a minute, although that does depend upon the wind speed.
They are electronically controlled by computers that monitor their performance and the current conditions and if the winds get too high then the turbines will be automatically shut down.
The farmland they are on covers just over 1100 hectares and to our way of thinking the wind turbines were not eyesores but majestic machines.
Some older turbines can make a bit more noise than the ones at Te Apiti - often described as tonal or musical - but the newer models have a soothing appeal that is hard to describe.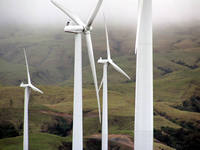 I can just picture them along a gusty coast where they would not only be a tourist attraction but would greatly help us reduce our energy consumption. They are efficient and still look fantastic!
The car park for Te Apiti is on Saddle Rd between Woodville and Ashurst and is open between 8.30am and 5pm every day. It is a site well worth taking time out to see.