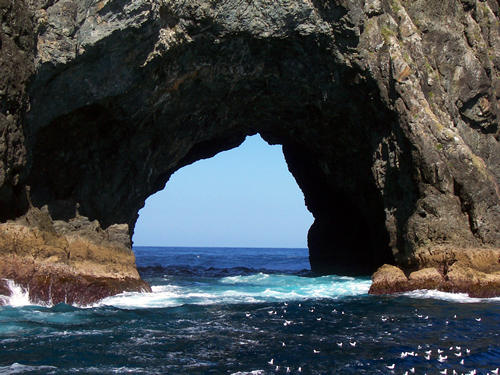 Hole in the Rock, Bay of Islands
BAY OF ISLANDS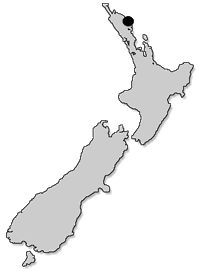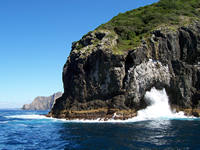 Book a Hole in the Rock Cruise
Sightseeing, Tours, Attractions and Events in the Bay of Islands
Hotels and Accommodation in the Bay of Islands
Cape Reinga by Bus
Tiki Touring catches up with dolphins
Dolphin Adventures
By Richard Moore
The beautiful Bay of Islands in New Zealand offers some wonderful chances to cruise around picturesque waters and none more so than on the Cream Trip or the Hole-in-the-Rock Cruise.
Sailing through New Zealand's finest marine park is an adventure in itself - and an amazing way to spend your holiday - with more than 140 islands dotting the seascape.
You cruise aboard the luxury catamaran from either Paihia or Russell on some of the most popular cruises in the Bay of Islands.
Along the way you'll see secluded islands, yachting folk enjoying stunning freedom to anchor anywhere they like and (hopefully) dolphins.
The Hole-in-the-Rock Cruise's high-speed catamaran is an ultra-modern vessel that will speed you out to deep waters off the Cape Brett Lighthouse and to Motukokako Island (also known as Piercy Island) and its Hole in the Rock.
The island is regarded as the most important land area for conservation in the Bay of Islands as it is in near pristine condition with no evidence of introduced animals.
Captain Cook named it Piercy Island in honour of one of Britain's Lords of the Admiralty.
The lighthouse makes for terrific pictures and the view of the Hole in the Rock will blow you away.
The 18-metre hole was created over hundreds of years by wind and waves which have carved one one of the most naturally beautiful sites in New Zealand.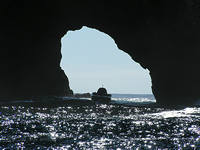 It is huge and if the seas are right you can wend your way through it for an awesome travel experience.
On the way back to either Paihia or Russell you'll stop over on Urupukapuka Island for a 1.5 hour break. As if you need to take a break after such a great journey.
Book a Hole in the Rock Cruise
Sightseeing, Tours, Attractions and Events in the Bay of Islands
Hotels and Accommodation in the Bay of Islands
Cape Reinga by Bus
Tiki Touring catches up with dolphins
Dolphin Adventures