Hole in the Rock, Bay of Islands
Sightseeing, Tours, Attractions and Events in the Bay of Islands
Hotels and Accommodation in the Bay of Islands
Book Hole in the Rock Cruise
Cape Reinga by Bus
Dolphin Pictures
Tiki Touring catches up with dolphins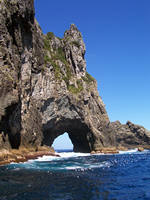 By Richard Moore
BAY OF ISLANDS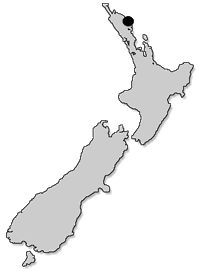 The beautiful Bay of Islands in New Zealand offers some wonderful chances to cruise around picturesque waters and none more so than the Hole in the Rock Cruise.
Sailing through New Zealand's finest marine park is an adventure in itself - and a perfectly relaxing way to spend your holiday - with more than 140 islands dotting the seascape.
You cruise aboard the luxury Tiger V sabre catamaran from either Paihia or Russell on what is the most popular cruise in the Bay of Islands.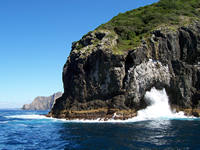 Along the way you'll see secluded islands, yachting folk enjoying stunning freedom to anchor anywhere they like and (hopefully) dolphins.
The Tiger V is an ultra-modern 22 metre vessel that will speed you out to deep waters off the Cape Brett Lighthouse and to Motukokako Island and the Hole in the Rock.
The lighthouse makes for terrific pictures and the view of the Hole in the Rock will blow you away.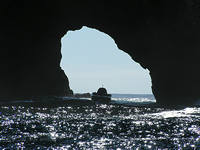 It is huge and if the seas are right you can wend your way through it for an awesome travel experience.
If you take the Excitor jet boat cruise you'll have more chance of this extra adventure.
On the way back to either Paihia or Russell you'll stop over on Urupukapuka Island for a 1.5 hour break. As if you need to take a break after such a great journey.
More pictures of the Hole in the Rock
Location:
Cruise departs from either Paihia or Russell, in the Bay of Islands. Paihia - the Maritime Building, Marsden Road, on the Paihia waterfront. Russell - The Strand Wharf on the Russell waterfront.
Time:
Cruises depart: Paihia - 9:00am, or 1:30pm Russell - 9:10am or 1:40pm.
Check in and boarding commences 10 minutes prior to departure
Inclusions:
Cruise through the mighty "Hole in the Rock"
Stopover on Urupukapuka Island
Admire beautiful islands and beaches
Large modern cruising catamaran
Visual display technology (inside)
Air-conditioned vessel
New Zealand's Goods and Services Tax (GST)
Exclusions:
Food and drinks
Optional Nautilus Subsea Adventure
Additional Info:
This tour must be booked at least 72 hours in advance of travel.
Confirmation for this product will be received at time of booking.
Tour is operated in English unless otherwise stated.
Departures and itineraries may be subject to sea and weather conditions.
Please note, during the winter months (June, July and August), the afternoon departure is approximately 3 hours in duration, returning one hour earlier to Russell and Paihia and does not include a stopover on Urupukapuka Island.
What to Bring:
Fullers suggest you bring a towel, some warmer clothing, sunglasses, sunscreen and a camera.