Cape Reinga by Bus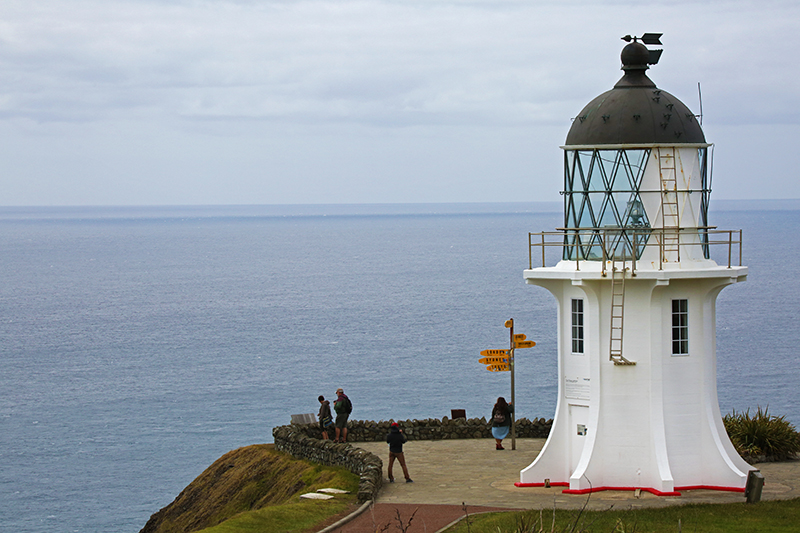 Cape Reinga

Pictures of Cape Reinga Bus Tour
Book a Bus Tour to Cape Reinga
Sightseeing, Tours, Attractions and Events in the Bay of Islands
Hotels and Accommodation in the Bay of Islands
By Richard Moore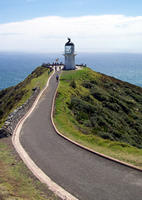 CAPE REINGA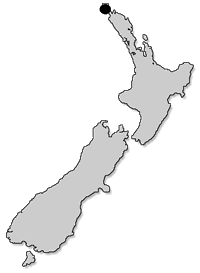 Cape Reinga is a legendary place in New Zealand and a spot most New Zealanders want to visit at least once in their lives.
Cape Reinga is right at the top of the North Island and looking out from the lighthouse you have nothing but ocean ahead for thousands of kilometres.
While looking out that way you can see where the Tasman Sea collides with the Pacific Ocean and the battle between the powerful currents is an awesome sight.
It is also a place where the native Maori believe their souls leave New Zealand for the return journey to the fabled Hawaiiki - their homeland.
Getting to Cape Reinga is easy.
You can take your car or, if you want to be in true holiday mode, hop aboard one of the many tour buses that head that way.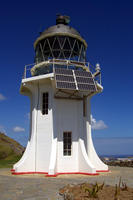 The advantage of a bus tour - we took the Fullers Cape Reinga Wanderer - is you can relax, have things of interest pointed out to you, get to see the sights and have a drive along another famous part of New Zealand - 90-Mile Beach.
Taking the specially designed tour bus down the 93-kilometre-long surf coast also saves you the risk of having your car bogged - or destroyed (see photo below) - by what can be a very dangerous stretch of sea and sand.
If you are going by bus then it means a reasonably early start at 7.15am, although Fullers can pick you up from your hotel or motel.
First stop along the way was at the Puketi Kauri Forest where you can see beautiful old trees that have been growing in the area for an average 800 years each.
The path down to the prize specimens is easy and will take about five minutes.
It really is a peaceful spot and there is something magical about giant kauri trees.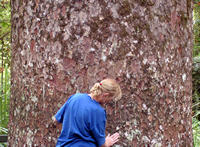 Now there is nothing magical about the nearby toilet, which is basic to say the least.
Alex our driver said Fullers has been trying to put in a decent set of facilities for years but the approaches have been waved away.
So, make sure you've been to the loo before hopping on the bus for this part of the journey.
Next up it's brunch or coffee - and a loo - at the Ancient Kauri Kingdom in Awanui.
This place has some pretty impressive carvings done by chainsaw and also features gifts and furniture made from kauri wood that is around 45,000 years old.
And check out the huge kauri stump through which stairs have been cut to the second floor.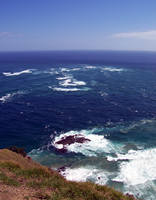 As you travel further north you cross between the Tasman Sea coast and that of the Pacific Ocean four times, which is no great surprise in that this area of Northland is about 12km wide and is one giant reclaimed sandspit.
Alex fills us in on the geography of the area and how during the Great Depression work gangs of unemployed men were sent there to improve the land. They did a good job.
Arriving at Cape Reinga is quite interesting as you can't see it when the bus pulls up, but then you climb a rise you can look across the water to Cape Maria van Diemen and down to Cape Reinga and its lighthouse.
And there before me was the meeting of the oceans, a mass of mid-sea breakers and powerful waters. It was impressive.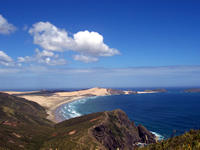 After an all-too-brief half hour at Cape Reinga it was back on the wagon for our adventure down 90-Mile Beach.
The time of your hitting the sands depends upon the tides and so you either go up to Cape Reinga that way, or back down it on the return journey to Paihia.
To get on to the beach itself you need to navigate the Te Paki quicksand stream but this allows another stop to do some sandboarding down the giant sand dunes there.
Alex is the personal instructor and then even the oldies were heading up the golden sands to throw themselves down for a taboggan back down.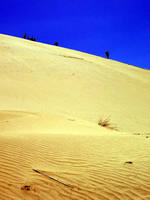 It looked great fun but, sigh, someone had to take pictures!
Back on the bus it is out on to 90-Mile Beach and it has to be said the bus handles the trip superbly.
The need to get my four-wheel drive to this place loomed large in my mind but for the moment it was very pleasant to let someone else do the hard work.
Mid-way down the beach we had a stop to look around and experience the feeling of 90-Mile Beach and then it was on to the highway again, a coffee stop at Ancient Kauri Kingdom and being dropped off at either our accommodation or the Maritime Building.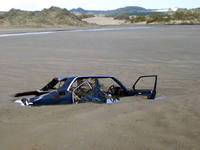 The Fullers Cape Reinga Wanderer trip to Cape Reinga is a long day - about 11 hours - but is a no-hassle way to see New Zealand's coastal tip.
The driver, Alex, was terrific although I think he may have a sadistic streak.
At Te Paki I raced back to get photos of other sandboarders under a strict "five-minute" promise.
As I staggered back on board having run a mile (it felt like 10) through stream and deep sand (sob) he said wryly "Oh, I guess I could come back to pick you up."
Thanks Alex ... for a top day.
Book a Bus Tour to Cape Reinga