Mauao, Mount Maunganui
Pictures of Mauao
Hotels in Mount Maunganui
Hotels in Tauranga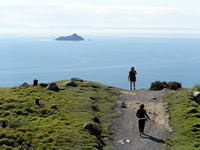 by Richard Moore
Mauao, or Mount Maunganui, is an iconic hill in Tauranga rising more than 230 metres and guarding the entrance to Tauranga Harbour.
It is a place of Maori legends, stunning views and somewhere to enjoy exercise in one of the best climates in New Zealand.
An extinct volcano, Mauao dominates the landscape and can be seen for many miles around. Indeed when returning home to the Bay of Plenty it is a sight that always gladdens the heart.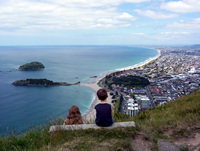 Many people take a daily walk up Mauao, but it isn't an easy task for the unfit.
There are several routes to the top - varying in difficulty - and as anyone who has made the effort can attest, it is worth the sweat.
The views from the summit are fabulous and sitting relaxing up there on a summer's day is simply heavenly.
And imagine watching hang-gliders as they float about - beneath you!
If you don't feel like that much exercise then you can do the base-track circuit which is mighty popular - particularly at weekends.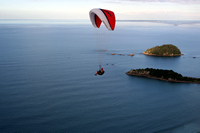 It takes about 40 minutes to walk around Mauao and during that you get to see beautiful Matakana Island and any ships powering into the harbour. When the large cruise ships come in it is truly a sight to behold.
After your walk relax in the cafes along the Mount Main Beach and sample some excellent cuisine while you are there.
Sunday mornings are hectic at The Mount.