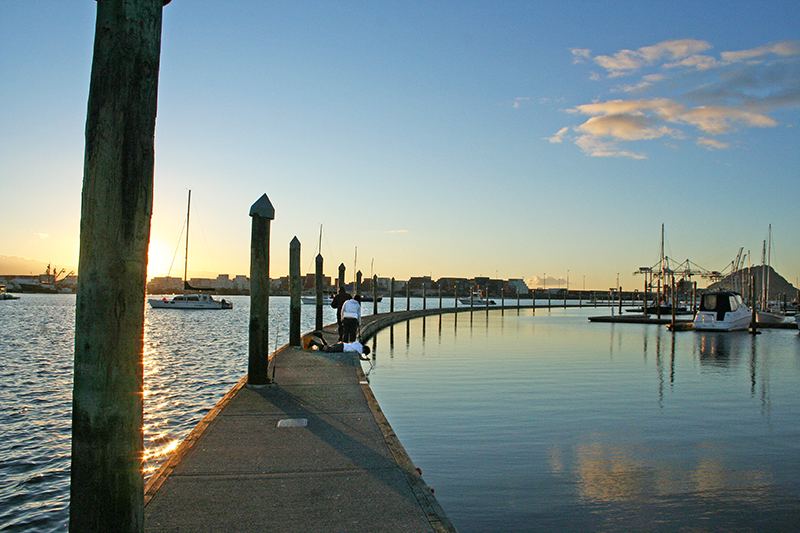 What's On in Tauranga
TAURANGA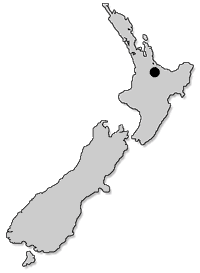 Tauranga is in the heart of one of the fastest growing regions in New Zealand, the Western Bay of Plenty.
And it is easy to say why as the place has a relaxed feel and is bounded by some excellent beaches. These coastal strips at Mount Maunganui and Papamoa are great for surfing, fishing or just messing about on the white sands.
There are around 120,000 people in Tauranga and its main entertainment area - The Strand - is lined with cafes and restaurants that offer a range of meals from pub standards, to Turkish and Indian.
And don't forget to check out Cafe Versailles - a fabulous restaurant in nearby Grey St. It is run by Michellin-awarded chef Maurice Mourali and his partner Maurine and you won't get better French food anywhere.
Other restaurants in Tauranga that we enjoyed include: Zeytin (both Mount and Tauranga), Takara (Japanese), Little India and India Today (surprisingly these are Indian) as well as Volare (Italian).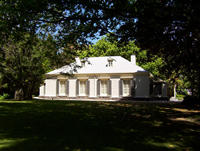 However Tauranga is more an outdoors place with plenty of great places to walk, swim, bike or drive around.
Not far from The Strand are interesting historical places - the Monmouth Redoubt, used during the Maori/Land Wars, and The Elms Mission Station House, one of the oldest buildings in New Zealand. The grounds of the mission are great to walk around.
Tauranga's most significant landmark at Mount Maunganui, is Mauao, an impressive volcanic cone that sits 232 metres above the entrance to the port of Tauranga.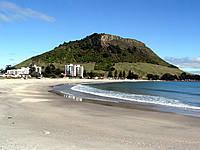 There is a circular walk around the base, but for fantastic views pack a bottle of water and a snack and head off up to the top of the Mount. It takes about 40 minutes but the views from there are well worth the effort.
We've got some fabulous pictures of Mauao and the sights you can see from walking its tracks and to the summit.
You can see all the way down the ocean beaches from the Mount to Papamoa and beyond to the Maketu Peninsula.
Behind you will be the city and port, to the north the island of Matakana and more coastline heading towards the Coromandel Peninsula.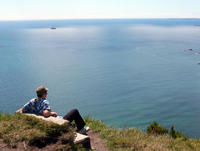 Straight ahead - nothing but ocean dotted with islands. Even whiney children will be stunned, albeit momentarily, into silence.
Afterwards enjoy a bath in hot water pools at the base of the Mount, or grab a latte at any one of a dozen cafes lining the beach.
And a great place to visit is the Classic Flyers Aviation Museum near Tauranga airport.
From Tauranga there are a mass of seacruises, fishing charters or nautical adventures to participate in. Dolphin Seafaris offers amazing voyages out to watch, or swim with, dolphins.
If big game fishing is your passion then a trip out to Mayor Island (35km off Tauranga) will put you right into the middle of prime fishing waters for marlin, tuna, sharks and kingfish.
You can also drive down to Whakatane and take a day trip out to White Island, New Zealand's only live marine volcano.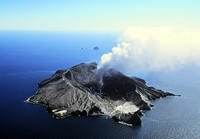 Inland from Papamoa Beach are the Papamoa Hills, where you can take a good stroll up to the summit and see the area for miles around.
In the hinterland from Papamoa are the impressive Kaiate Falls - just perfect for summer picnics and swimming.
On the eastern border of the Bay of Plenty are the Kaimai Ranges (Kaimais) and on the foothills there is a wonderful spot to relax in relative tranquility.
It is the McLaren Falls a series of small waterfalls and rock pools that stretch away into the distance.
Tauranga and its port is also a major base of kiwifruit and citrus growing in New Zealand and there is usually plenty of seasonal work available for pickers and packers.
Tauranga is a 2.5 hour drive from Auckland, 45 minutes from Rotorua and about an hour-and-a-half from Hamilton.