Opotiki
Find out all the latest Sightseeing, Tours, Attractions and Events in Rotorua
Hotels and Accommodation in Rotorua
Book a trip out to White Island
Book a trip out to White Island with transfers from Rotorua
Book a trip out to White Island with transfers from Tauranga
Book a trip out to Moutohora Island Sanctuary
By Richard Moore
As soon as you drive into Opotiki you know you have arrived in some place different.
It's not quite a time warp, more a mind warp as you can feel the chilled lifestyle grow as you meander through its streets.
Opotiki is the northern gateway to the Pacific Coast Highway and from there, initially east then south, you enter a rural and coastal landscape.
It is very pretty countryside and the beaches are beautiful ...
But back to Opotiki. There are around 4000 residents in the town and that doubles if you take in the surrounding district.
It is built on two rivers and has a very fine spot for swimming called The Wharf. The kids can spend hours leaping into the cool waters via swinging ropes and swim out to a pontoon.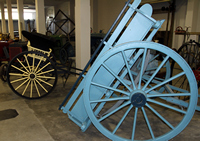 Adults can sit and watch while sipping on some very good lattes available at the town's cafes.
One big surprise was a collectibles shop in which I discovered a very fine statuette of a French dragoon in Napoleonic campaign dress. Not bad for country New Zealand!
Another one was just how arty and historically minded Opotiki is.
The town has a wonderful museum that puts many larger cities to shame - yes we mean you Tauranga.
It has been established by the Opotiki Heritage and Agricultural Society and shines a spotlight on the district's early days of settlement.
The ground floor is filled with vintage farm machinery, vehicles and horse-drawn buggies, as well as displays of giant saws and carpentry tools, wagon wheels and horse harnesses.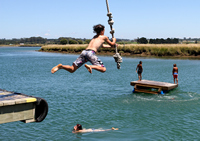 Upstairs there was a display of Maori carvings, a whaling display and images and rooms set up showing how European settlers lived in the early days of colonial New Zealand.
Oh, I shouldn't forget to mention the most amazing little corn chomping device.
I've no idea what it is called - or how it works - but you biff in a piece of corn, turn a handle and lo and behold out pours corn kernels. Brilliant!
Just down the road is the wonderful Shalfoon and Francis Grocery Store Museum that right up to 2000 was a working general store.
It is a treasure trove of kiwiana from old sewing machines and washing wringers, to typewriters, wind-up gramophones and a townload of household wares from days gone by.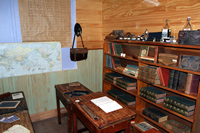 The kids will be astounded at some of the items we used to take for granted - such as typewriters!
Arguably the most fascinating part of the museum is the old grocery store, which could very well still operate if the museum had more volunteers.
Old tins, jars and trays of foodstuffs that would have been sold to previous generations are there to see. No homogenised supermarket this, it's real, personal trading complete with flour bins.
What a marvellous step back in time.
Across the road from the grocery museum is the beautiful Hiona St Stephen's church, which was built by the Reverend Carl Volkner.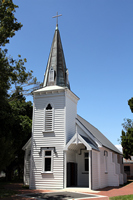 If the name Volkner rings a bell, it should, as he was killed by anti-British Maori tribes who accused him of spying for the Government during the Maori Wars.
His death was not pleasant.
Fellow missionary Thomas Grace was taken prisoner with Volkner but his life was spared.
Grace watched the execution of Volkner who was hanged from a willow tree near the church in 1865.
He said Volkner "knelt down and prayed, and, having shaken hands with his murderers said 'I am ready'."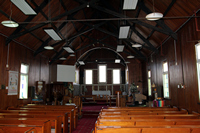 After an hour, Grace said, his body was taken down and decapitated. One of the executioners, Kereopa Te Rau, removed the eyes and swallowed them, saying one was Parliament and the other the Queen and English law.
Kereopa would later be executed for his crime.
Anyway, Volkner's church is well worth a visit.
Now if you visit Opotiki on a hot summer's day then there are several good spots in the vicinty to cool off in.
One is the aforementioned wharf, which is just to the back of the town's main street.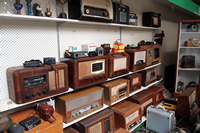 Then there is The Boulders park which is a superb set of swimming holes in a picturesque valley.
It is a little out of the way, but worth the trip of State Highway 2 south of Opotiki. Turn on to Otara Rd, follow that to the Te Waiti stream confluence, turn right and follow for about 4 km.
It is on a steep gravel road and there a couple of small fords to cross. Now be careful whole driving as the road is narrow and if you hoon down it you will hit somebody.
Now a few kilometres out of Tirohonga heading towards Te Kaha is an out-of-the-way spot called Morice's Bay.
Again down a gravel road, this time a short one, you can walk down to the beach where you can spend the day sunbathing, swimming or exploring the rocks.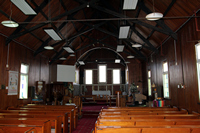 A sandstone arch allows you through to a next-door bay at low tides and you and the kids can explore the area to your hearts' content.
A word of warning - be very careful of rips and undertows.
As a cyclist I should also mention there is a terrific cycleway that partly runs along the coast from Opotiki just past Tirohonga in the east and then loops back again. Click here for details of the Motu Trails.
Other things to watch out for are the highly rated Fibre and Fleece Fashion Show and the Opotiki Mural Project.