What's to see on Coromandel Peninsula
Accommodation around the Coromandel Peninsula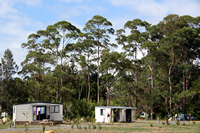 By Richard Moore
If you are going to Hot Water Beach then I can recommend staying at the Hot Water Beach Holiday Park.
It is a new development and is only about five minutes' walk from the beach itself.
The amenities are very good and you can pick from camp sites, caravan or campervan berths, cabins and chalets.
We stayed in one of the dinghy-shaped chalets and they were comfortable clean and with all the modern conveniences.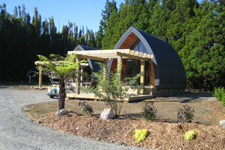 There are two single beds upstairs and a double-bed downstairs.
The campsites are large - deliberately designed that way to allow for both a bit of privacy - and also space to put up a couple of tents, park your car and your boat, kayaks or whatever.
Hot Water Beach Holiday Park is aimed at families and is a very relaxed place to spend some time.
Check out the Hot Water Beach Holiday Park website.