What's On in Auckland
Click for Auckland's latest Sightseeing, Tours, Attractions & Events
Auckland Harbour Luncheon Cruise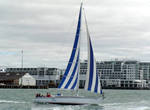 The Pride of Auckland Company operates its fleet of large, purpose-built sailboats on the sheltered waters of the sparkling Auckland Harbour. With their trademark Blue and White sails, the yachts have become the icon nautical attraction in Auckland, the 'City of Sails', for international visitors and for locals alike. Enjoy lunch on board one of these purpose built yachts and see the sights of the city from the water while you listen to an informative commentary. Experience the fun and pleasure of real sailing in the sailing capital of the world.
Special Offer - Price displayed includes free entry into the New Zealand National Maritime Museum.
Picture copyright Tourism Auckland
---
Waiheke Island Explorer Tour
Waiheke Island, situated in Auckland's Hauraki Gulf, is a magical island paradise. Covered by lush vineyards, olive groves and pastureland, this is an island of unique art, stylish cafes and restaurants. Visitors can enjoy beautiful beaches, scenic, wine and historic tours and the many bush walks that are available. Depart Auckland city by Fullers Ferry for the 35 minute ferry ride across the beautiful Waitemata Harbour to Waiheke Island. On arrival at Matiatia on the island, you will connect with your fully commentated tour of the island's scenic highlights. After the tour, you can either return to Auckland on the 1:00pm ferry, or explore the island further and return on a later ferry.
---
Auckland Bridge Climb
Join professional climb leaders for a magical two and a half hour adventure on, around, up and under Auckland's stunning Harbour Bridge, nestled over the beautiful Pacific Ocean. For the first time ever, step onto a dynamic bridge which has grown up with New Zealanders. Stylishly converted paths make for an easier than imagined climb, with ladder-like walkways and kindly curving arches adding to the thrill of being 67 meters (200 feet) above the water. Well informed guides share the bridge's colorful secrets, amazing architectural features and the myth and legend surrounding this New Zealand landmark. And way above it all, stretching into the distance, the 360 degree views from the bridge's summit are a spectacular reward. Magnificent picture postcard views of a bustling harbor, island landscapes and vibrant city skyline make Auckland Bridge Climb truly 'the ultimate high'!
---
Great Sights Saver Pass
The Saver Pass is a book of 8 vouchers that you can exchange for luxury sightseeing and touring with Great Sights throughout New Zealand. As an added bonus, vouchers can also be exchanged for scenic flights with New Zealand's leading operators: Mount Cook Ski Planes; The Helicopter Line; and Milford Sound Fly and Cruise. The pass includes approximately 50 tour options throughout New Zealand. Simply redeem the vouchers in your Saver Pass to join the tour of your choice. Each tour option is allocated a specific number of vouchers ranging from one to eight vouchers.
---