Whale Watching in Kaikoura
Book Kaikoura Whale Watch Tour
Kaikoura Whale and Dolphin Overnight Tour
Kaikoura Swim with Dolphins
Kaikoura Whale Watch Day Tour with one way train
Whale Watch pictures
Wings Over Whales article
Wings Over Whales pictures
Kaikoura pictures
Hotels and Accommodation in Christchurch
Whale Watching Tours from Christchurch

By Richard Moore
The kids ran to the side of the vessel with an excitement that is kept for truly wonderful moments.
The plume of spray jetted up several metres and the kids marvelled at what they were seeing - a 60-tonne sperm whale only metres away.
It had been a fairly long hunt - an hour or so on choppy seas - but it didn't matter as the older one's queasy stomach had disappeared.
Both of their faces shone with excitement and their digital cameras clicked away.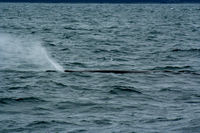 They were joined by a couple of dozen other folk who were witnessing a natural marvel up close.
We were part of the Whale Watch tour in Kaikoura - a must do if you are in that lovely part of the South Island - and it is well worth the money.
Whale Watch is New Zealand's only marine-based whale watching company offering visitors an exciting up-close encounter with the giant Sperm Whale at all times of the year.
You zip out to the deep Kaikoura canyon in one of Whale Watch's state-of-the-art vessels and along the way get a very informative commentary on what makes the area such a perfect spot for whale spotting.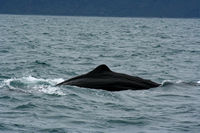 You also get to know the names of the whales that live near Kaikoura at various times of the year and this brings a more personal touch to proceedings.
When you are in the right area the boat's crew starts listening out for sounds that the whales are about.
If they don't hear anything it's off to another spot for a quick check.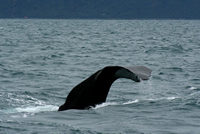 It gets very exciting as the anticipation builds and when you finally get to see one of the majestic creatures it is amazing to know you are so close to a giant.
The sperm whales are year-round residents in the area. Three summer regulars are Tiaki, Little Nick & Noodle, while in winter the residents that have come into the canyon are Tutu, Kaupapa and Upoko Nui.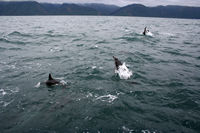 While the whales are the main drawcard to stars of the show, visitors will also get to see pods of Dusky dolphins, New Zealand fur seals and the endangered Wandering albatross.
Depending on the time of year you may also see migrating humpback whales, pilot whales, blue whales and southern right whales.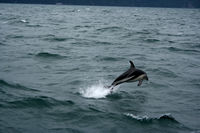 Kaikoura often hosts the world's largest dolphin - the Orca - and is home to the world's smallest and rarest - the Hector's.
A trip out to see the giants of the deep up close is a wonderful adventure for young and old alike.
Whale Watch tours have a 95% success rate and it guarantees an 80% refund if your tour does not see a whale.
Book Kaikoura Whale Watch tours