Whale Watching in Kaikoura
Book Kaikoura Whale Watch Tour
Kaikoura Whale and Dolphin Overnight Tour
Kaikoura Swim with Dolphins
Kaikoura Whale Watch Day Tour with one way train
Whale Watch article
Whale Watch pictures
Wings Over Whales article
Wings Over Whales pictures
Kaikoura pictures
Hotels and Accommodation in Christchurch
Whale Watching Tours from Christchurch

By Richard Moore
Kaikoura is not only a seriously gorgeous part of the world where mountains meet the sea, it just so happens to also be the whale-spotting mecca of New Zealand.
And scores of thousands of visitors are drawn to the area each year by the chance to see these wonderful creatures in their natural environment.
The whales themselves are attracted to the region by a deep marine trench that runs close into the coast near the town of Kaikoura and provides plenty of the squid and other delicacies they love.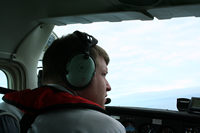 It is also deep enough - about 1000 metres - so they can practise deep diving and give tourists those spectacular whale-tail pictures you see all over the place.
At Kaikoura the whales normally dive down for approximately 45 minutes, however, they are capable of diving for more than 2 hours.
In other locations they have been tracked to 2300m and may be able to dive to far greater depths.
Usually the whales typically dive and returns to the surface vertically descending at approximately 4 knots (7 - 8 kph) and returning to the surface at about 5 knots (9 kph).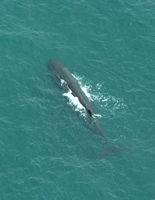 To get to the whales you have two choices - go by sea or by air. Having done them both I must say I have a preference for air.
This is a better way to see the whales as the bird's-eye view gives you the full shape of the giants through 360-degrees.
When you are in a boat your vision can be limited by the waves, the positioning of your vessel and also a crowd of excited fellow passengers.
And if you are pressed for time the plane flight will have you whale watching and back to the airfield within about 40 minutes. Folk who get seasick may also prefer the flying option.
Wings Over Whales has two aeroplanes to take out to view the magnificent creatures - a large one for big groups and a more personal beast that would fit two. (Well, unless one was the editor of a travel mag wildly throwing arms and legs everywhere trying to get a better shot of the whales that is.)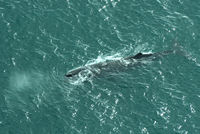 Now I have to say that despite taking hundreds of jet flights during my life small planes always get me a little jittery. Don't know if it is the larger effects of thermal bumps or the fact you can't walk around in them, but any concerns I had were baseless as the plane handled like a dream.
It zipped down the runway and very soon we were at our cruising height looking out for the aquatic beasties. And the hunt for the whales is one of the exciting parts of the adventure.
Of course you need to know what you are peering for and the pilot will be more than helpful with the advice "if it doesn't spout it's not a whale".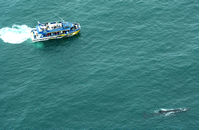 Mind you the crew at Wings Over Whales are excellent and really fill you in on the habits of the whales, the sort of things to watch out for - particularly the shallow dive it goes into before resurfacing to make the full deep dive with tail pointing to the sky.
And they have really keen eyesight. Unfortunately my 20-20 vision didn't spot the sperm whale first but I was too busy trying to position myself for a shot. The pilot is very obliging for photographers - or just happy snappers - and will circle the whales slowly when they find them.
Now here is a bit of technical advice. Before beginning your photo shoot you'll need to make sure your film rating, or digital ISO is fairly high.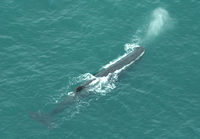 I shot at 800 with a 300mm lens (or digital equivalent) and overall the shots were fine with little shake. Of course that does increase the grain/noise of your shot so make sure your file quality size is big.
With a good length telephoto lens you'll be able to get good full length shots of a whale from the 500 feet we circle at.
In the usual 30 minute flight you will see sperm whales, up to 500 dusky dolphins, other whales can include southern rights, humpbacks, fin, sei, brydes, pilot and the mighty blue whales.
Other dolphin species include hectors and rissos. Having had a really good look at the sperm whale and watched it's wonderful big dive it was time to see if we could spot a large pod of dolphins that had been seen in the area. It didn't take long and the 200-dolphin-plus pod was amazing sight.
We even got to see people swimming with the dolphins and I must say I got a little green with envy. Mind you, the water down in those climes is not warm enough for my Aussie blood - even with a wetsuit on!
One extra special treat the aircraft flight can give you is to climb above any clouds and give you a spectacular look at the Kaikoura Ranges before heading back to the airfield.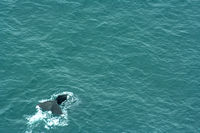 Along the way you will have Maori forts, or pas, pointed out to you and if the weather is good then a flight over the Seaward Kaikoura Ranges rising to approximately 2800m is on the cards.
When back at the airfield you can relax with a meal or drinks.
Wings over Whales has a whale sighting rate in excess of 95% for sperm whales and a cancellation rate of less than 5%, something it proudly says is "unmatched by others!"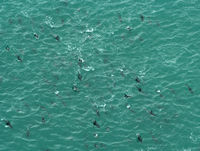 You can get to Wings Over Whales by heading for the Kaikoura Airfield, about 8km south of the township on State Highway 1
Is it a journey worth taking? You bet.
Wings Over Whales' Address:
Kaikoura Airfield, Kaikoura
Phone: +64 3 319 6580.
Fax: +64 3 319 6668
Email: fly@whales.co.nz
Interesting facts about sperm whales:
Males can grow to an average length of 15m and weigh in at 36,000 kilos, while female are about 11m long and 20,000 kg.
The head of the whale occupies 1/3 of its body length and considerably more than 1/3 of the whale's body mass.
AThe blowhole, which is on the front left of the whale's head, creates a spout that is blown at a forward angle of about 45° and is 3 - 5 metres high.
The first exhalation after a long dive is like an explosion and can be heard up to 1 km away.