AUCKLAND
Balmoral
Bombay Masala
533 Dominion Rd,
Balmoral.
Ph: (09) 623 3411
Every now and then you have to take a chance with where you eat and by popping into Bombay Masala we turned up trumps. This Indian restaurant has okay decor, but food to die for. The tandoori chicken was superb, the rogan josh super yummy and the Peshawari naan bread (filled with nuts and raisins) was out of this world. If you are in Dominion Rd keep an eye out for this place. Entrees from $4, mains from $12. Two courses each for three hungry adults $70.
- Richard Moore
Newmarket
Rialto
163 Broadway,
Newmarket
Ph: (09) 523 1800
This upstairs bar and eatery has good food at good prices. There is an outdoor deck to eat on. Excellent garlic bread and the falafel is unwrapped and served on a plate. Different. Cost for lunch with coffees or soft drinks $20.
- Richard Moore
Onehunga
The Landing
2 Onehunga Harbour Rd,
Onehunga
Ph: (09) 634 2544
Hidden away near the old port of Onehunga is this fine restaurant. The Landing has an interesting menu with good-sized meals. Not cheap, but you eat well. Cost for dinner for 4 adults, two courses plus drinks $150.
- Richard Moore
---
AUCKLAND REGION
Maramarua
Pink Pig Cafe
State Highway 2,
Maramarua.
Ph: (09) 232 5757
If you are heading down south from Auckland - in the direction of either the Coromandel Peninsula or Bay of Plenty - keep an eye out for the Pink Pig Cafe. You can't really miss it as there is a giant pink pig outside. The food is good, plentiful and reasonably priced.
- Richard Moore
---
BAY of PLENTY
Maketu
Seaside Cafe,
Town Point Rd,
Maketu.
Ph: (07) 533 2381
A top little eatery with a wonderful view out into the Bay of Plenty. Good selection of food, including a great-looking seafood platter, at reasonable prices. Bacon and egg brekkie sets you back $6.50.
- Richard Moore

Mount Maunganui
BB's Espresso
Bayfair Plaza
Hmmm ... not a lot of joy here. Lots of waiting in line for coffees that are too milky and don't have much taste. And, being picky, the spoons are too short for the glass latte mugs.
- Richard Moore
Papamoa
Navigator Restaurant,
Beach Rd,
Papamoa.
Excellent food, big serves.
Not cheap, but usually good value.
Meal for two adults and two children about $70, including bottle of wine.
- Richard Moore
Palm Beach Diner,
Palm Beach Plaza,
Papamoa.
(07) 574 7123
Very reasonable prices with large serves. Coffees are great, although a tad too much froth on the lattes. Malt shakes are super yummy.
A huge breakfast/brunch will cost around $11 per person.
- Richard Moore
Tauranga
Kestrel at the Landing,
The Strand,
Tauranga.
Ph: (07) 928 1123.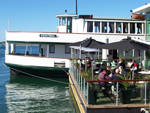 An old Auckland ferry has been transformed into a very nice looking place to dine on the Tauranga waterfront. It isn't cheap and the food would have been nice if - it hadn't been cold and the meal ordered was the one that arrived. I will also mention the difficulty of getting a drink at the bar - despite being the only couple there. Service, as you might have gathered, is not the Kestrel's strong point. Neither is listening to customers when they try to point out things. Ah well, the Kestrel proves that perfect location doesn't mean a good night out. Mains, side dishes (vital) and a few drinks costs around $90. Been there, done that, will try somewhere else in future.
- Richard Moore
New Delhi,
20 Wharf St,
Tauranga.
Ph: (07) 578 5533.
The New Delhi is a first-rate Indian restaurant just off the Waterfront at Tauranga. It is a spacious, low-lit place with very good service, a great atmosphere and super food. It is rated as one of the top Indian restaurants in Tauranga and Mount Maunganui and I can see why. The mixed platter for two hissed and roared its way to the table delivering yummy vegetable somosas, pakora, seekh kebab and chicken tikka, which was excellent. The mains are filling and this time around we went for lamb saagwala (cooked in spinach, herbs and spices) and another top choice in beef madras. The food is tasty and you can tell the freshness of the ingredients used. The only slightly off thing was the dishes were not fiery enough. Our medium seemed very mild so keep that in mind. If you like Indian and are in the area drop in because you won't be disappointed. A big dinner for two with drinks cost around $70.
- Richard Moore
---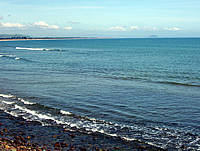 Te Puke
Verdinis Cafe,
125 Jellicoe St,
Te Puke.
Ph: (07) 573 7597.
A country town cafe in which we waited 25 minutes for marinated lamb in pita bread. It wasn't busy. The serves were small, but tasty. Coffees were good.
Lunch cost about $20 for two.
- Richard Moore
CHRISTCHURCH
Oxford Terrace, or The Strip
Barcellona
This is a small, trendy restaurant on Oxford Terrace that presents itself as chic, quality and sophisticated. The menu a good quality, small selection of foods which combine Spanish and Middle Eastern styles with quality New Zealand foods to create a superb eating experience for about $35 a main meal. The wine list is extensive with offerings between $20 and $60 which will suit most tastes. This place is little more of a fine dining experience so you will be able to impress someone special while still feeling like you are dining in the welcoming company of friends.
The Viaduct
This is one of the many paces on The Strip that I reckon is competing for the passer-by. The place is decked out with Roman pillars and statues and has some cosy little nooks inside for you to hide away in when required. The menu covers all the usual suspects in terms of South Island cuisine and the chef adds a little Romanesque/Italian feel to the food for between $20 and $30 for a main. The wine list is extensive and you can start at $20 and finish at about $100. With a big bar area in the middle dominating proceedings, this place really feels like a bar that serves food, although the food is still very good. Maybe the place to stay for the late nighters...
Cafe Valentino
813 Colombo Street
Only another block along Colombo Street from the Indochine, this Restaurant is more in keeping with Colombo Street that with The Strip This place is the best of a string of cheap eats places. This restaurant is decked out with an American/Italian feel, lots of posters on the walls and cool music, a little loud for me. There is an extensive menu of Italian and South Island combinations for between $15 and $30 and a large sensible wine and imported beers selection. This is good place to go for that birthday dinner or is your are going somewhere else afterwards. The staff and very friendly and very efficient. I did three course and a drink in 30 minutes.
Indochine
At the far end of Oxford Terrace, along Colombo Street and along the River again is 209 Cambridge Terrace. Still only walking distance from The Strip, this is a boldly award-winning restaurant. This place is sparsely decorated in a modern, Chic style that reminds me of the multicultural melting pot that was French Indo-China, but has been transported into the 21st Century. The place is frequented by a younger business crowd who can enjoy a fusion of Chinese, Vietnamese and French styles presenting the best in South Island fare for between $20 and $30. The wine list is a treat with bottles from between $30 and $120, and the cocktails are well worth a try. This is good place to go with a group of friends to enjoy quality music, food, wine and company.
http://www.Indochine.co.nz
---
KING COUNTRY/WAITOMO
Te Kuiti
Bosco
57 Te Kumi Rd,
Te Kuiti.
Ph: (07) 878 3633
This is an award-winning cafe on the main highway. A breakfast here should set you up for the whole day. Coffees are excellent being both full of flavour and a good size.
$30 for two lattes and two bacon-and-egg breakfasts.
- Richard Moore
---
WAIKATO
Matamata
Espresso to Go,
65 Broadway,
Matamata.
Ph: 025 927 407
Excellent range of very fine coffee together with some pretty yummy biscuits. The staff are chatty and very nice.
- Richard Moore
---
SYDNEY
Fujiya Japanese Tavern
Level 1, 605-607 George St,
Sydney.
Ph: 9283 2268.
This superb Japanese restaurant is to be found in Chinatown. It is great value, with extremely tasty food. Meal for two adults and two children, with drinks $70.
- Richard Moore
---