Okere Falls
Rotorua
Bay of Plenty
Tauranga
Hotels in Mount Maunganui
Hotels in Tauranga
Hotels in Rotorua
By Richard Moore
Having driven a lot between Tauranga and Rotorua in the Bay of Plenty I always promised myself a stop at Okere Falls.
It's a little village about 21 km from Rotorua and a half-hour drive from Tauranga.
On one side of the road you have the very pretty lake with houses perched on the shoreline, together with a kayaking course, and on the other there is a turnoff to see the falls themselves.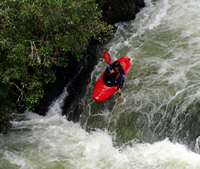 Having a bit of spare time the brakes were applied, the indicator switched on and off we drove down the side road to Okere Falls.
In a very quick time we were at the carpark and trying to work out which ay to go to see the cascades.
We could hear them but couldn't see them so followed the most obvious path up a slight rise.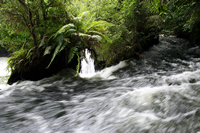 From there you could walk to a lookout and could get a very nice view of the falls surrounded by bushland.
If you are lucky - we were - you can get to see some of the kayakers hooning over the falls.
At the carpark if you go in the other direction you'll come to a set of steps that takes you down to a little viewing area right by the water.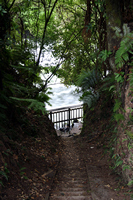 Take note that the Depertment of Conservation says the Kaituna River at the falls has dangerously strong currents and waterfalls. So be careful when visiting.