Tarawera Falls
Pictures of Tarawera Falls
Hotels in Mount Maunganui
Hotels in Tauranga
Hotels in Rotorua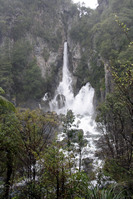 By Richard Moore
I came across the Tarawera Falls in the Bay of Plenty during an adventure trip with my teenage kids.
An adventure trip is where I pick a place on the map and we head out to discover what is in that area and its surrounds.
I wanted to go to see Mt Edgecumbe, a volcanic cone of a mountain that stands more than 800m tall.
I had seen it several times when out boating off the Bay of Plenty - to White Island and on a Dolphin Seafari - and I wanted to see it up close.
When the plans were made the weather was nice with blue skies, however on the Sunday in question it was grey and looking ominous.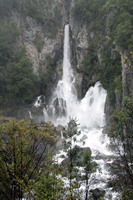 The drive through the countryside was nice and we stopped for some pictures of the giant mill at Kawerau.
Mt Edgcumbe was topped by a large cloud and my sought-after shots were not on the horizon.
Popping in to the i-Site at Kawerau I asked if there was anything to see locally and the girl looked incredulously at me.
"The Tarawera Falls!"
Um, okay, how do we get there?
With directions and map in hand, and minus a $5 licence to use the private road to get there, we tootled off in the Pajero down some very straight, unsealed logging roads.
It took us about 35 minutes, maybe a bit more, before we got to the parking spot for the falls.
We walked down a pretty riverside track - which was an easy stroll - across a nice little bridge and on to the falls.
By this stage is was hosing down, but despite this we had a nice time chatting and taking photos as we went.
The Tarawera Falls are impressive.
They pour out of a cliff face and drop on to rocks some 35 metres below.
The rain took the shine off the photo session, to a point, but on a sunny day this place would be an absolute beauty.