TAURANGA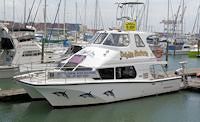 By Richard Moore
I can never get out enough to photograph dolphins and whales.
I can done so many times, in Australia and New Zealand, but the last always makes me excited to do the next.
Living at Papamoa Beach makes it easier to pop out and see the magnificent creatures as there are a number of businesses making the cruises.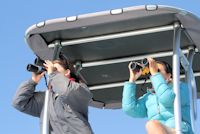 I did my second cruise with Dolphin Seafaris in January, 2013, because the business has been sold to new owners and I wanted to see how things were progressing.
As it turned out, the journey was just as good and new owner/skipper Cameron was excellent. He's a Canadian and is a long way from snow and ice - something I don't think he was very worried about on a gorgeous bay of Plenty summer day.
Just off Tauranga in the Bay of Plenty there is a fabulous playground for dolphins, whales, orca, seals, sharks and big-game fish.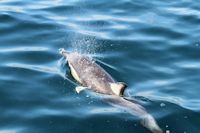 And the crew at Dolphin Seafaris in Tauranga know how to show off our rich waters to visitors and locals alike.
Dolphin Seafaris offers daily trips out to see the dolphins and, when it is possible, you can swim with the creatures.
A journey with Dolphin Seafaris starts about 7.30am with a wetsuit fit-out at the Tauranga Marina before heading over to Mount Maunganui to pick-up fellow passengers from Salisbury Wharf.
As we cruise by the docks of New Zealand's biggest export port, new skipper Cameron gives us a rundown of what we can expect through the day and our safety instructions.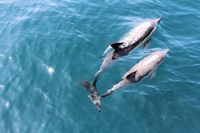 Sitting in the cabin of the 50-foot catamaran Guardian on a beautiful day there would be few things I'd find more enjoyable. Not only is she a comfortable vessel to cruise around in, she also has a fair bit of toe with a top speed of 27 knots - perfect for keeping up with speeding dolphins.
Cameron lets us know that his crew contains not only divemasters but also marine biologists who know their stuff about marine life. Paula and Rebecca - to name but two - worked with the former owners and know their stuff.
As we push out of Tauranga Harbour Cameron continues his commentary and then pushes the throttle so we can feel the power of the Guardian.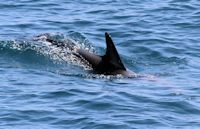 The morning is absolutely gorgeous with little swell as we ease out into the Bay's waters.
There is a safety briefing and Paula explains how a swim with the dolphins is organised, providing there are no baby mammals in any pod we come across.
On the horizon is the shadow of the Rena, the container ship that came to stay. We skirt the 2 nautical mile exclusion zone around her and head towards Motiti Island. Cameron announced he's got a good feeling about finding our quarry out the back of the island.
And his intuition is spot on. North-east of us the crew spot feeding dolphins and off we go.
Unlike many wild creatures, dolphins like a bit of interaction with humans - if they are in the mood - and the more appreciate (and noisy) the passengers, the more they are likely to perform for us.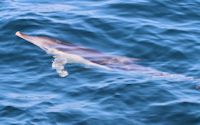 Fortunately for us the 40 to 50 creatures were in a playful mood. They zoomed in close to check us out and then whizzed around and under the boat as we mooched along.
While I love being out with dolphins and whales I was especially pleased for the tourists on board to witness such a sight. They were from Australia, Britain, France and Spain and you can bet your bottom dollars they were thrilled at the sights they were seeing.
No matter babies within the pod prevented a swim, they would be going home telling everyone about the great day in the Bay of Plenty and that has to be good for our tourism.
Government regulations limit the boats to 90 minutes a day with dolphin pods and so after 45 minutes we set off to try to find another group to watch.
Unfortunately it wasn't to be, but everyone on board had a great time anyway and enjoyed themselves thoroughly.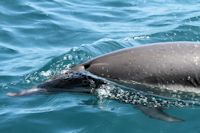 If you are coming to the Bay of Plenty one of the must-dos is to take a trip out to see the dolphins.
It is a truly magical experience.
Dolphin Seafaris
Tauranga Bridge Marin
PH: 0800 ECOTRIP (0800 326 8747)
http://www.www.nzdolphin.com
Prices