What's On in Taupo
Great Adventure Ideas
Taupo Highlights
What's to do in Taupo
Hotels and Accommodation in Taupo
Rotorua Highlights
Adventure in Rotorua
Photos of Rotorua
Adventure Photos of Rotorua
Sightseeing, Tours, Attractions and Events in Rotorua
Hotels and Accommodation in Rotorua
By Richard Moore
On a sunny day there are few better things to do in Taupo than get yourself aboard the vintage steamer Ernest Kemp and take a two-hour cruise around one of the most picturesque spots in New Zealand.
With the wide expanses of New Zealand's largest lake unfolding around you, in the distance you spy the snow-capped peaks of the mountains in the Tongariro National Park.
It truly is spectacular and is a remarkable visual treat for those who like the majesty of mountains contrasting with marvellous blue waters.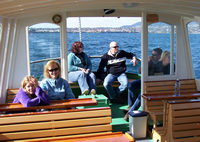 The gentle pumping of the Ernest Kemp's engines keep you moving along at a steady pace and points of interest are pointed out by the skipper of the vessel.
The commentary is entertaining and its content depends upon the mix of passengers. On the day we went Australia had just lost a sporting contest to New Zealand and so we poor Aussies copped a bit of a flogging.
The Ernest Kemp is a wonderful old vessel and dates backs to early last century. She is painted classic colours and is very well looked after indeed.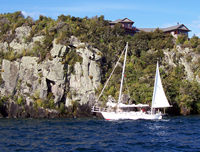 Her interior has plenty of seating space for groups and there are also spots outside to sit in the sun and get the breeze in your hair.
The cruise takes you around the bays and beaches closest to Taupo and include Okuta Bay and Acacia Bay.
Along the way you may cross paths with the Barbary, a yacht that used to belong to the famous actor Errol Flynn.
In summer the friendly crews often take part in water fights.
Part of the journey will take visitors to see some interesting Maori carvings hewn into the rocks at Okuta Bay and they are only accessible by boat.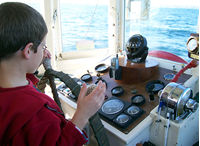 Also of interest to travellers will be some of the impressive houses on the cliff tops that would have to have some of the finest views in New Zealand.
On board the Ernest Kemp you can get morning and afternoon teas, get to drive the vessel - and even get a certificate for doing so - or else just sit and enjoy the peaceful journey.
The Ernest Kemp departs the Taupo Boat Harbour at 10.30am and 2pm although in the warmer months - October through April - there is an extra cruise from 5pm.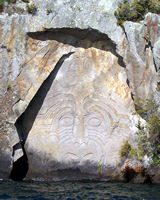 You can get your tickets at the Taupo I-site office, phone 07 376 0027, or to make a necessary booking.
The two-hour cruises cost around NZ$30 per adult and NZ$10 per child.