Prawn Farm
Great Adventure Ideas
Taupo Highlights
What's to do in Taupo
Rotorua Highlights
Adventure in Rotorua
Photos of Rotorua
Adventure Photos of Rotorua
Sightseeing, Tours, Attractions and Events in Rotorua
Hotels and Accommodation in Rotorua
By Richard Moore
While you are at the Huka Falls or the Huka Jetboats take half an hour or so out of your schedule and pop into the Prawn Park for a really interesting look at the tasty little critters.
Actually little isn't really the word as the Prawn Park's inhabitants are huge and will have your mouth watering as you watch them, learn about them, feed them and - catch your own to feed on them.
It really is an amazing place to visit and you can follow the lifespan of prawns from spawning, through the teenage months and adulthood.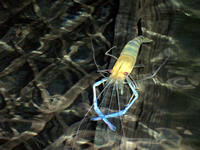 Prawn lovers can take the final step and dine on them in the farm's excellent-looking restaurant that is so successful most of the 35,000 tonnes produced a year are eaten there.
One of the guys you'll meet is Sean of the Seven Wives who has been around a bit and is the granddaddy of the population. He looked a bit tetchy but, hey, with seven wives who wouldn't be!
While prawns look enticing and gentle on your plate they are actually mean little blighters with a penchant for fighting and cannibalism.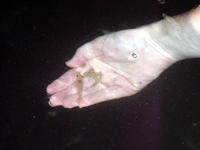 The big guys' nippers can take deliver some pretty serious bites and you remember this as you get the chance to feed the cuter - much smaller - younger creatures by hand.
Be warned, though, they tickle like crazy.
No trip to a prawn farm would be complete without having a munch on the produce and at Taupo Prawn Park you get a lesson in peeling them before partaking.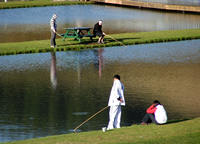 If you feel like a spot of fishing then you can catch your own prawns with a bit of prawn fishing.
The outside prawn tanks offer the perfect spot for rod work and on the day we visited one person got hold of a 22 centimetre beast.
I don't think it would last for long mounted on the wall, but boy it would go down a treat with garlic, lemon and a glass or two of champagne.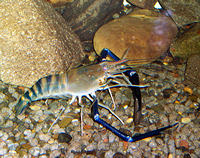 I was a little sceptical about the excitement value of visiting a prawn farm but can genuinely say that view has changed and it is well worth the effort.
Kids, too, will love it.
The Taupo Prawn Park is near the Huka Falls and Craters of the Moon just north of Taupo on State Highway 1.
More Pictures of the Prawn Park.