Waikato
Hamilton hotels
Waitomo Caves and Rotorua Day Experience
Discover Waitomo Caves
Discover Waitomo Caves and Rotorua
Hobbiton at Matamata
Great Adventure Ideas
By Richard Moore
WAIKATO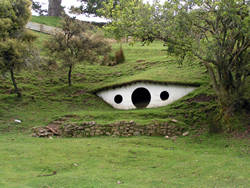 The Waikato region of New Zealand is a rich farming landscape where your eyes will feast on lush growth and greenery.
It lies and hour and a half south of Auckland and spreads through much of the North Island of New Zealand.
The major city in the Waikato is Hamilton, the largest inland city in New Zealand, with a population of more than 130,000 people.
Through Hamilton flows the Waikato River - New Zealand's longest - and the waterway is used by many during the hot summer months.
There are plenty of good walks to take and kayaking is popular on the river.
Nearby is Lake Karapiro where some of the world's best rowers have performed.
In the city itself you can get all the amenities of city life - meaning good coffees - and perhaps take a stroll around the 50 hectare Hamilton Gardens. These include roses, herb and scented gardens as well as those featuring world styles such as Asian and American gardens.
The Waikato is also home to Hobbiton, one of the sets where the Lord of the Rings movie trilogy was filmed. For fans of the movies this is an excellent chance to visit a bit of movie history.
But the Waikato is more than just for farmers - it has wonderful beaches on the black-sand west coast and the surf is rated A1. One of the best spots for catching a wave is Raglan to the west of Hamilton.
About 30 minutes south of Hamilton are the spectacular Waitomo Caves and the famous glow worm grottos.