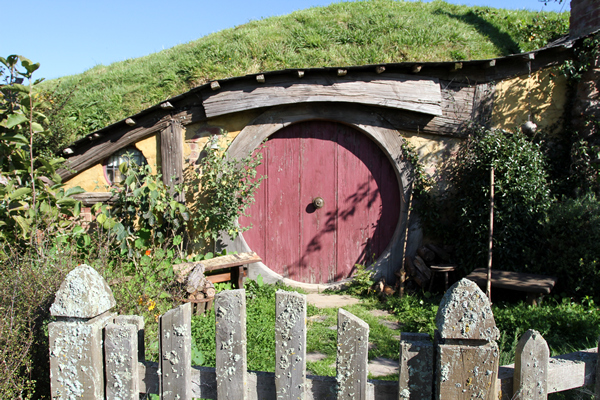 The Shire, better known as Hobbiton
WAIKATO
By Richard Moore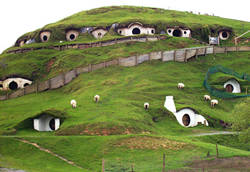 Pictures of Hobbiton
Take a Tour to Hobbiton
Deluxe Middle Earth Filming Locations
Wellington Lord of the Rings Location Tour
One of the things The Hobbit and The Lord of the Rings movie fans want to do in New Zealand is visit as many sites from the films as they can.
Many are unrecognisable, but just outside Matamata in the Waikato region of the North Island lies an unmistakeable piece of movie history - The Shire.
When you take the trip out to Hobbiton you instantly see this is the real thing and if you don't spot recognisable bits of scenery - then the hobbit holes, gardens, village huts and stone bridge will jog your memory.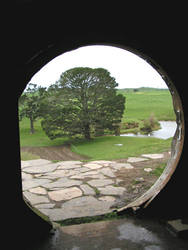 Originally the hobbit holes were not the beautifully kept homes of the little creatures with the big hairy feet, but are the facades that were left after filming.
Now visitors to Hobbiton get to see the improved village given a revamp for The Hobbit complete with gardens, tools, little hobbit tools, window dressings and wildly overgrown laneways.
The makeover makes Hobbiton much more interesting to visit and in the future you may even be able to eat and drink at the Green Dragon pub. I'm looking forward to that!
In the meantime Hobbiton HQ has The Shire's Rest Cafe to ease any hunger pangs.
The site of The Shire set is about 20 minutes out of Matamata on a private farm owned by Ian Alexander.
The story of how his land was chosen is rather amusing - as is the fact that this piece of prime sheep-producing country had to have its flock removed and more-Shire-looking sheep introduced.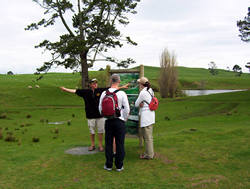 There is also the funny tale of how the landowner tested the wood, plywood and foam-brick bridge with his ute ...
You'll have to take the tour to find out the results.
Anyway, apart from the set gossip you can see and touch the wonderful Party Tree, which is all natural and not computer generated. It is an amazing piece of nature, no doubt and it is to the relief of all that Ian Alexander didn't chop it down as he had thought about doing!!!!!!!
The Hobbiton Movie Set and Farm Yours have also added in a Woolshed and sheep shearing demonstration that includes bottle feeding of lambs.
Matamata is a two-hour drive south of Auckland and about 40 minutes from both Hamilton and Tauranga. Click to book hotels in Hamilton or Tauranga.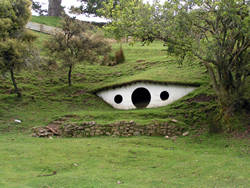 Departure Times
The two-hour tours of the Hobbiton movie set depart at 9.50am, 11.05am, 12.20pm, 1.35pm and 2.50pm each day. Extended tour departure times: 4.05pm (excludes May to September).
Bookings are recommended.
Contact Details
Rings Scenic Tours
Phone 07 888 9913
Fax 07 888 9982
Email: office@hobbitontours.com