All the Fun of the Circus
By Richard Moore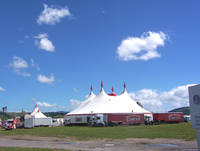 It has been a very long time since this fellow went to the circus but, while spending time at the beach in the Bay of Plenty recently we had the opportunity to go and see the travelling show from the Weber Brothers Circus.
The show was called Splash - following the adventures of a sea princess kidnapped by an evil Orc king - and is full of some terrific acrobatics and feats of skill.
The heroine is the mermaid daughter of King Neptune and unless he can rescue her she is fated to marry the hideous King Kraal on her 21st birthday.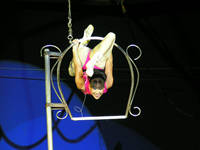 To save her Neptune forces a fisherman to undertake the dangerous mission and his only reward is not being turned into a fish!
Splash begins by using a traditional circus ring, but then in the second half it changes into a giant swimming pool.
This adds real action and flavour to the tale of the mermaid and allows for some very clever stagework and lighting.
The show doesn't have wild or exotic animals - do any in these days? - but the performers are excellent and the story kept the children enthralled.
I should mention there is one animal act - a football match between Australian and New Zealand boxer dogs that - I'm pleased to report - the Aussies won!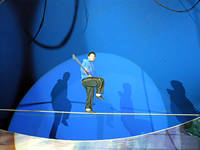 Splash is a very clever mix of clowns, high-wire acts, giant puppets, trapeze work, astonishing feats of gymnastic strength and skill. The staging is superb and full credit to the person who put it all together.
The acts come from all around the world - Mongolia, Russia, South Africa, Australia and Colombia and there is a rich vein of humour running through the show.
In our performance the high-wire duo were not only supremely skilful, but gutsy. One of the artistes had two goes at riding a unicycle over the wire and almost dropped off at the start each time.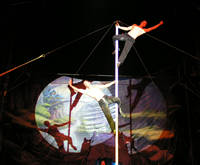 Fortunately he showed more sense than guts and decided it just wasn't going to work in that show. He received a huge round of applause from the audience.
His partner was incredible on the wire and did things I wouldn't try a foot above the ground, let alone 20 feet up!
Weber Bros Circus can be very proud of its professional troupe and we will definitely be visiting them next time we come across them on our - or their - travels.
A family ticket costs $65 for two adults and two children. Well worth it.
Check out the Weber Bros Circus site.