Hanmer Springs
Hanmer Springs pictures
Hotels and Accommodation in Christchurch
Whale Watching Tours from Christchurch
Wings Over Whales pictures
What to do in Kaikoura

By Richard Moore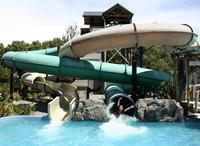 After a hard day's driving around the wonderful South Island countryside there could be very little better than spending some time relaxing at the Hanmer Springs Thermal Pools and Spa.
Located in lovely mountain and forest surrounds, the Hanmer Springs pools are great fun for the family.
There are nine nine open-air thermal pools, three sulphur pools and four private thermal pools. Temperatures range from 33C to 42C.
If you want to de-stress further there is also a sauna/steam room.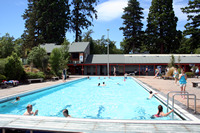 The kids will love the water slides and there is a huge water bucket that dumps seemingly tonnes of water on you every few minutes.
Hanmer Springs is a pleasant drive inland from Kaikoura, the lovely little town where you can whale watch from boats, or by plane.
There are plenty of things to do near the Hanmer Springs Thermal Pools including a golf course and adventure activities.
The pools are open every day, except Christmas Day, from 10am to 9pm.
Email: info@hanmersprings.co.nz
Free Phone: 0800 442 663
Phone: +64 3 315 0000
Fax: +64 3 315 7528.