TAURANGA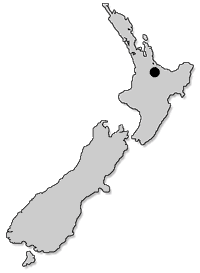 By Richard Moore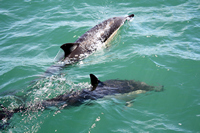 As a photographer and traveller I find very few things in life as enjoyable as being on the deck of a boat watching sealife on show all around me.
Of course I prefer it if the weather is warm, the sun bright and conditions calm, but even on cloudy, big-swell days the combination of Mother Nature and her marine creatures is hard to beat.
Just off Tauranga in the Bay of Plenty there is a fabulous playground for dolphins, whales, orca, seals, sharks and big-game fish.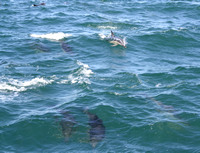 And the crew at Dolphin Seafaris in Tauranga know how to show off our rich waters to visitors and locals alike.
Dolphin Seafaris offers daily trips out to see the dolphins and, when it is possible, you can swim with the creatures.
A journey with Dolphin Seafaris starts about 7.30am with a wetsuit fit-out at the Tauranga Marina before heading over to Mount Maunganui to pick-up fellow passengers from the wharf there.
As we cruise by the docks of New Zealand's biggest export port, skipper Stuart Arnold gives us a rundown of what we can expect through the day and our safety instructions.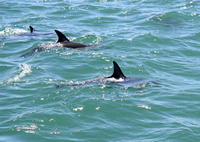 Stuart is also the managing director of Dolphin Seafaris and has been involved in dolphin watching for more than 30 years.
He is passionate about sea creatures, eco tourism and freely admits he loves his job. Who wouldn't?
Sitting in the cabin of the 50-foot catamaran Guardian on a beautiful day there would be few things I'd find more enjoyable. Not only is she a comfortable vessel to cruise around in, she also has a fair bit of toe with a top speed of 27 knots - perfect for keeping up with speeding dolphins.
Stuart lets us know that his crews contain not only divemasters but also marine biologists who know their stuff about marine life.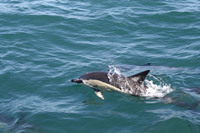 And Dolphin Seafaris takes our wildlife seriously and is not only fully licensed by the Department of Conservation to work with sea mammals, but helps the government body with research.
As we push out of Tauranga Harbour Stuart continues his commentary and then pushes the throttle so we can feel the power of the Guardian. The waves we face are not big but there is a sizeable swell courtesy of a just-gone storm. The Guardian rides it with ease although it will be a bit of a test of the sealegs of many passengers.
The first pod we come across is new to the crew and will be entered into the register of recognised dolphins.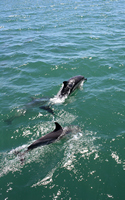 The creatures are a bit skittish - possibly feeding, possibly there are orca in the area - and they remain "at arm's length" of us for most of the contact.
Because of their behaviour we won't be swimming with this group.
They are still fabulous to watch and spend time surfing the swells before racing away in some haphazard pattern.
It is very cool to see them although the pitch of the boat makes photography pretty difficult.
Under DoC rules boats can only spend 90 minutes a day with wild dolphins and so after 30 minutes or so we head out further to try to locate a calmer pod.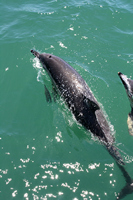 Heading out to the back of Motiti Island off the coast from beautiful Papamoa Beach we pass by the Astrolab, which is an underground volcano that is so tall its top creates a reef.
Watching the waves break in the middle of very deep water is quite a sight.
Past the Astrolab - named after a ship that sunk after striking it - I think I see a triangular dark fin sticking out of the water. But it was only a flash and then it was gone. Someone else's eyes confirm we saw something but after doubling back we couldn't locate either a suspected sunfish or big shark.
On our return journey the conditions are much more pleasant with the swell almost gone. Some kilometres ahead of us a boat has called Stuart to let him know of a pod of some 30 dolphins out from Mauao.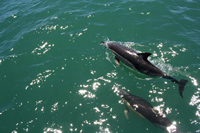 We speed there and then throttle back on getting close. The group is very playful and interested in us and they have some babies with them so no swimming is possible.
However, these guys are out to have fun and it is an absolute delight to watch their antics.
They speed by the bow of the Guardian, race off and then zoom back. There are no big leaps out of the water but they are close in with us, watching us as we watch them.
My daughter Alice got the photo of the day with a close up of a dolphin peering at those on the boat. It is a beauty!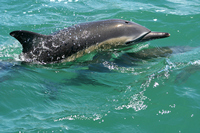 This encounter is soul-enriching as these creatures are wild. They don't have to be near us and could hide very easily.
But everyone aboard appreciated their time, energy and spirits.
We stay with them as long as we can and it was an exhilarating experience.
Now on its website Dolphin Seafaris says: "Rest assured, we are the best in New Zealand at what we do and all strive to make your trip the most enjoyable, comfortable and natural possible."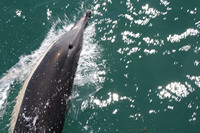 Having been out with them for a trip to see the dolphins we can only agree.
We'll be making the journey again.