Turangi
Central Plateau Pictures
Stayover at the Chateau Tongariro
Great Adventure Ideas
Taupo Highlights
What's to do in Taupo
Hotels and Accommodation in Taupo

By Richard Moore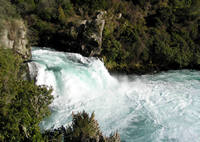 Just down the road from Lake Taupo is a sleepy little surprise package.
It is Turangi, a place most people pass through on the way to elsewhere but, having spent a couple of days there photographing the Mt Tongariro eruption in November 2012, I found Turangi a great base to operate from.
It is on the main highway, SH1, and from Turangi you can keep going south down The Desert Road to Waiouru and beyond, or cut across to National Park and the fabulous mountains of Mt Ruapehu, Mt Ngauruhoe and Mt Tongariro.
In winter there is plenty of skiing to be done and in warmer months the sightseeing is excellent, as is the famed Tongariro Crossing walk.
Turangi offers eateries, accommodation and petrol, and a heap of adventure firms are there for rafting and kayaking or, if you prefer a more sedate time there, then trout fishing is famous in Turangi's rivers and Lake Taupo.
Now I can suggest the Truck Stop cafe for hearty, inexpensive meals, and for a cheap, cheerful and friendly stopover you could try the A Plus backpackers. The owner Ian is very welcoming and his guests, mostly from overseas, don't seem to want to leave the place.
Staying in Turangi gave me a chance to explore a bit of the area that I hadn't seen before.
The best thing was heading down The Desert Rd, turning off at Tree Trunk Gorge Rd, and visiting a hidden treasure.
Underneath a bridge at Tree Trunk Gorge is a river that has carved its way through solid rock and it is a pretty amazing sight.
Down nearby Kaimanawa Rd, again off The Desert Road, you can check out the Pillars of Hercules - again rocks sliced through by the Tongariro River. A word of warning, however, if you are nervous of heights hold on as you c ross the bridge to see the Pillars below you. The bridge is very sway-ey. Mind you, I thought the rock formations at a one-way bridge well before the Pillars were actually more interesting to see.
And don't forget that an hour south of Taupo is the New Zealand Army Museum at Waiouru. This is a really interesting museum that charts NZ's military history. Good displays of the various weapons, uniforms and action are on show.